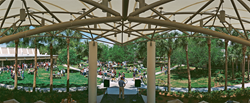 Student advocates can make a natural transition from Eckerd to Stetson law school.
GULFPORT, Fla. (PRWEB) May 23, 2016
Starting in the fall, high-performing Eckerd College students, including students and graduates of Eckerd's Program for Experienced Learners, can earn direct admission to Stetson law school.
The partnership with Stetson University will also offer $15,000 or more in scholarship opportunities to accepted Eckerd College students based on qualifications and credentials.
Through the new program, eligible Eckerd College students who have completed coursework requirements for their bachelor's degrees and have competitive grades and scores on the Law School Admissions Test may apply and be accepted to law school at Stetson University in their senior year.
"This new direct admission agreement between Stetson University's College of Law and Eckerd will offer wonderful opportunities for Eckerd College graduates. We look forward to a growing and flourishing relationship with Stetson Law," said Suzan Harrison, Eckerd College's Dean of Faculty and Vice President for Academic Affairs.
"This new partnership makes it possible for Eckerd College students who are passionate about advocacy to seamlessly transition into law school," said Dean and Professor of Law Christopher Pietruszkiewicz.
"Student advocates can make a natural transition from Eckerd to Stetson law school," said Dean Pietruszkiewicz. "Eckerd's academic strengths in the natural sciences dovetail into Stetson's international leadership in environmental law."
A private, coeducational college of liberal arts and sciences related by covenant to the Presbyterian Church (USA), Eckerd College has a diverse student body with 1,800 students from 48 states and 40 countries and is one of only 40 schools listed in Loren Pope's Colleges That Change Lives. In 2003, Eckerd became one of the youngest colleges to receive a Phi Beta Kappa chapter.
Home to the Institute for Biodiversity Law and Policy, Stetson regularly hosts the finals of the International Environmental Moot Court Competition and the International Wildlife Law Conference that unites student advocates from around the world and features speakers from across the planet, as well as the Foreman Biodiversity Lecture Series that brings key environmental advocates to the law school campus.
Stetson law school is ranked No. 1 in Trial Advocacy and No. 3 in Legal Writing in the nation by U.S. News & World Report. Stetson offers certificates of concentration for J.D. students in the areas of advocacy, elder law, environmental law, international law and social justice advocacy.
###
About Stetson University College of Law
Stetson University College of Law, Florida's first law school, has prepared lawyers and leaders since 1900. Today, Stetson leads the nation in blending legal doctrine with practical training, evidenced by its top-ranked programs in advocacy and legal writing. Through our academically rigorous curriculum and commitment to social responsibility, Stetson lawyers are ethical advocates ready to succeed in the legal profession.
About Eckerd College
Eckerd College invites students to ThinkOutside. Located on 188 acres of waterfront property in St. Petersburg, Florida, Eckerd is a pioneer of innovation—developing programs that have been adopted nationwide and earning the College an international reputation for academic excellence. Eckerd also serves more than 600 students annually through its Program for Experienced Learners. The Leadership Development Institute, Academy of Senior Professionals, and offerings through the Osher Lifelong Learning Institute and Road Scholar program identify the College as a national leader in continuing education.