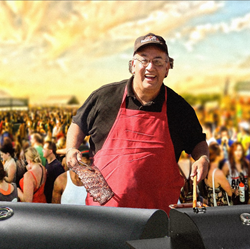 San Jacinto, CA (PRWEB) May 23, 2016
Soboba has taken leaps and bounds from the small bingo hall it once was. After a complete remodel and exponential growth, today it boasts 2,000 slot machines, several table games, the largest HD video wall in the Inland Empire appropriately named the "Sobobatron," and monthly promotions which feature extravagant prizes such as historic relics, custom cars, and tiny homes. To top it off, in celebration of their 21st birthday, Soboba will be giving away a brand new custom built backyard BBQ valued at $10,000 built by Lowe's on June 25, 2016 at 10:00 PM one (1) winner will be drawn for the Grand Prize. In addition, Soboba has partnered with "Famous" Dave Anderson and the Famous Dave's Legendary Pit Bar-B-Que restaurants to bring the thrill of the grill to the casino floor.
After spending 25 years tasting different barbecue flavors across the country and developing his own sauce recipes and smoking techniques, Famous Dave Anderson opened the first Famous Dave's BBQ Shack in Hayward, Wisconsin, back in 1994. In 1995 he was awarded the title of Best BBQ Sauce in America which secured the title of "Best New Restaurant" later that year. Since opening, Dave has won over 700 awards for his delicious BBQ. Now Soboba casino is bringing that award winning taste to their guests.
Join the party on June 11th beginning at 1 PM.
Famous Dave's will be serving fresh BBQ at Soboba Casino's 21st BBQ Birthday Bash. Tickets are $25 a piece and go on sale beginning May 25th. Each ticket includes lunch, a soft drink, a custom 'Soboba Casino's 21st Birthday Bash' T-Shirt and the opportunity to meet Famous Dave Anderson live and in person.
Scott Sirois, General Manager of Soboba Casino stated "it's been an exciting 21 years. We have expanded and grown into the fun and friendly place to play that we are today and we couldn't have done it without our loyal guests!" He continued, "it's a wonderful birthday gift to be able to celebrate our successes with them and of course with the one and only Famous Dave Anderson!"
Soboba Casino features approximately 2,000 of the newest, hottest slot machines, an expansive and modern non-smoking room, 20 classic gaming tables featuring all your favorite card games, and a large outdoor event arena which easily accommodates over 10,000 people. Need to recharge & refresh? Visit the cozy Soboba Cafe and Coffee Kiicha, or experience AC's Lounge with full cocktail bar and three giant HD flat screens including the "Sobobatron," the Inland Empire's biggest HD video wall.
Soboba Casino is proudly owned and operated by the Soboba Band of Luiseno Indians. Come join us for all the fun and then some. Soboba Casino. Where Everybody Goes to Play. For more information visit: soboba.com