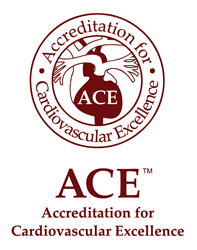 By implementing new protocols for reducing PCI-related bleeding complications, we effected significant, system-wide behavioral change that led to improved patient care and financial savings across a large patient population. -- Jerome E. Granato, MD
Washington, DC (PRWEB) May 24, 2016
Researchers from Catholic Health Initiatives (CHI) presented data this month on the successful implementation of protocols designed to reduce bleeding complications from percutaneous coronary intervention (PCI). The data, presented at the annual meeting of the Society for Cardiovascular Angiography and Interventions (SCAI) in Orlando, FL, document a 40% reduction in risk-adjusted bleeding event rates over a two-year period across the CHI system, which includes 18 facilities accredited by Accreditation for Cardiovascular Excellence (ACE).
"By implementing our new protocols for reducing PCI-related bleeding complications, we effected significant, system-wide behavioral change that led to improved patient care and significant financial savings across a large patient population," commented Jerome E. Granato, MD, vice president and medical director of the National Cardiovascular Service Line (NCVSL) at CHI.
In a late-breaking presentation at SCAI, Dr. Granato and colleagues reported on an enterprise-wide quality improvement project (QIP) to reduce bleeding events by employing the National Cardiovascular Data Registry bleeding risk calculator to direct application of evidence-based bleeding avoidance strategies, including use of the direct thrombin inhibitor bivalirudin. The QIP is part of a larger initiative the CHI NCVSL has undertaken to maximize its commitment to quality, including ACE accreditation of its cardiac catheterization laboratories. The NCVSL coordinates care across 12 regional health systems and three medical schools.
The QIP data encompassed 8,713 PCI procedures from 21 CHI hospitals in 11 states and more than 100 operators. The researchers observed a progressive 40% decline in the incidence of bleeding over two years, from a baseline risk-adjusted bleeding event rate of 6.3% in the first quarter of 2013, to a rate of 3.78% in the third quarter of 2015. They also reported a nearly $1 million reduction in the cost of bleeding complications, which typically amount to approximately $8,000 per patient, across the entire CHI system.
One of the goals of the QIP was to determine the most appropriate time to use bivalirudin, according to Dr. Granato, who noted a wide variance of use among participating facilities. The CHI researchers relayed that information back to the hospitals, leading to greater adherence to the protocols.
"Whereas some centers were using bivalirudin 100% of the time, others were not using this agent at all," commented Dr. Granato. "Use of the bleeding risk calculator gave us the appropriate context for communicating these usage patterns to the hospitals, which apparently motivated them to adhere to the process."
Also this month, another member of the CHI system, CHI Memorial Hospital in Chattanooga, Tenn., received ACE accreditation for their Diagnostic Cardiac Catheterization and PCI (CathPCI) program. Founded in 1952 by the Sisters of Charity of Nazareth and strengthened as part of the CHI network, CHI Memorial provides health care at seven facilities throughout Southeast Tennessee and North Georgia.
About Catholic Health Initiatives (CHI)
CHI is a nonprofit, faith-based health system formed in 1996 through the consolidation of four Catholic health systems. The nation's second-largest nonprofit health system, CHI operates in 19 states and comprises 103 hospitals, including four academic health centers and major teaching hospitals as well as 30 critical-access facilities; community health-services organizations; accredited nursing colleges; home-health agencies; living communities; and other facilities and services that span the inpatient and outpatient continuum of care.
About Accreditation for Cardiovascular Excellence
ACE is the leader in and the only provider of accreditation for all catheter-based cardiovascular procedures. We have unique and proven experience in accrediting large hospital systems and peer-reviewed data on improving outcomes in cardiac catheterization laboratories. Accreditation is our business, and we are an independent organization sponsored by the Society for Cardiovascular Angiography and Interventions (SCAI). ACE quality review and accreditation services play a critical role in continuous quality improvement programs, structured reporting and documentation. Join us. Learn more at http://www.cvexcel.org.