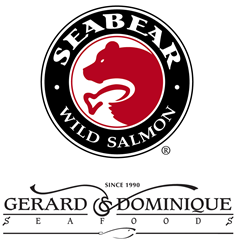 We are thrilled to now be a SQF certified plant.
Anacortes, Washington (PRWEB) May 24, 2016
SeaBear Smokehouse –- marketer of the SeaBear and Gerard & Dominique brands of artisan smoked salmon --- has been awarded Level 2 SQF Food Safety Certification by the Safe Quality Food Institute, a global standard for rigorous food safety management systems. Safe Quality Food certification (SQF), which is administered by the Food Marketing Institute and recognized by the Global Food Safety Initiative (GFSI), is a standard of excellence increasingly looked for by customers in the food retailing and food service industries.
"We are thrilled to now be an SQF certified plant, and proud to be part of their One World, One Standard certification." exclaims Mike Mondello, SeaBear president. "This SQF certification gives our customers the confidence that we, as a small artisan smokehouse, have met the highest global standards for food safety."
In addition to this Safe Quality Food certification, a number of SeaBear Company products have recently been verified by the NON-GMO Project. For more information about SeaBear Company, its products, or to arrange an interview, contact Patti Fisher, COO:
Email: pattif(at)seabear(dot)com
Phone: 1-800-645-3474, ext. 3050
About SeaBear Company
SeaBear Company is a small, growing artisan smokehouse in Anacortes, Washington, which started producing Northwest style smoked salmon in 1957. Today the SeaBear brand serves customers in all 50 states via their website at SeaBear.com and through select high end retailers. The company's Gerard & Dominique brand of smoked salmon (GDSeafoods.com) is served in fine restaurants and hotels, and available at select high end retail grocery stores.