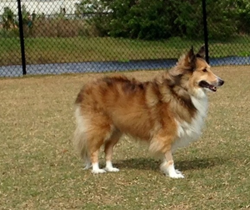 She is far more playful than she was before the stem cell treatment. The stem cell treatment has been life changing for my fur baby.
Melbourne, FL (PRWEB) May 25, 2016
Lady had been battling arthritis since the age of two and at the age of eight she tore her cruciate ligament in her left knee. Lady's owner Hannah sought the help of Dr Jeff Christiansen of Superior Veterinary Surgical Solutions , a central Florida board-certified veterinary surgeon, to repair her cruciate ligament and help with the pain of Lady's arthritis. Dr Christiansen suggested that in conjunction with the surgical repair of Lady's cruciate ligament, that he also perform Stem Cell Therapy in her other joints affected with arthritis. Dr Christiansen has used stem cell therapy with VetStem, for cruciate ligaments, meniscus injuries, as well as osteoarthritis of the hips and other joints for many years. He has treated over 70 patients with VetStem Cell Therapy since 2012.
Dr Christiansen performed a simple surgery on Lady to collect fat and sent it overnight to VetStem's lab in California for processing. Once processed the stem cells were quality checked and the injectable doses of Lady's stem cells were sent overnight to Dr Christiansen at Aloha Pet and Bird Hospital. Within 48hrs of collecting the fat sample from Lady, Dr Christiansen was able to inject stem cells into her left hip and left knee as well as both carpi along with an intravenous dose to begin the healing process.
Lady's owner Hannah is very happy with the outcome, she said "Prior to the stem cell treatments, Lady had a hard time going from a sit-to-stand position and would go outside for no more than 10 minutes at a time. Now she goes on 30-50 minutes walks. She is far more playful than she was before the stem cell treatment. The stem cell treatment has been life changing for my fur baby. I would highly recommend stem cell therapy!" Lady has several doses of stem cells stored with VetStem, so should she need additional injections in the future they are available for her.
Stem cell therapy can be an alternative for pets that are unable to take anti-inflammatory drugs (NSAIDS) or have digestive issues, as well as pets that need long-term pain management. Because the stem cells come directly from the patient risk is low, and the procedure is natural. Stem cells are regenerative cells that can differentiate into many tissue types as well as being able to reduce pain and inflammation thus helping to restore range of motion and stimulate regeneration of tendon, ligament and joint tissues (http://www.vet-stem.com/science.php). In a study using VetStem Regenerative Cell Therapy on dogs with osteoarthritis of the hip joint it was found that regenerative cell therapy as provided by VetStem (adipose-derived stem cells) decreases patient discomfort and increases patient functional ability.
Even if a pet is not an immediate candidate for stem cell therapy, but is undergoing an orthopedic or other type of surgery with Dr Christiansen, he offers the ability to collect a small sample of fat to process and save for the future. When stem cells are needed, this small sample is grown to get enough cells to use for treatment. VetStem has the ability to cryo-bank stem cells and grow them in the future to provide doses when needed. This service is called StemInsure for dogs, and provides the insurance for a pet to have a lifetime of stem cell therapy available from a single sample collection.
About Dr. Christiansen and Superior Veterinary Surgical Solutions
Jeffrey S. Christiansen, DVM, DACVS graduated from the University of Tennessee College of Veterinary Medicine in 1996. He completed his surgical residency in 2001, following an internship, and in 2002 he became a Diplomate of the American College of Veterinary Surgeons. Dr Christiansen has been practicing in Brevard County since the beginning of 2006 and runs Superior Veterinary Surgical Solutions. In addition to stem cell therapy, some special areas of interest to Dr Christiansen include artificial urethral sphincter (for incontinence), juvenile pubic symphysiodesis (for prevention of arthritis secondary to hip dysplasia), prophylactic gastropexy (for prevention of gastric dilatation-volvulus, commonly referred to as "bloat"), subcutaneous ureteral bypass (for obstructions between the kidney and bladder in cats), ureteral stenting (for obstruction between the kidney and bladder in dogs), and urethral stenting (for urethral obstruction), tibial tuberosity advancement (for tears of the cranial cruciate ligament; "ACL" in people) and tracheal stenting (for tracheal collapse).
About VetStem Biopharma
VetStem Biopharma is a veterinarian lead company that was formed in 2002 to bring regenerative medicine to the profession. This privately held biopharmaceutical enterprise, based near San Diego (California), currently offers veterinarians an autologous stem cell processing service (from patients' own fat tissue) among other regenerative modalities. With a unique expertise acquired over the past 14 years and 12,000 patients treated by veterinarians for joint, tendon or ligament issues, VetStem has made regenerative medicine applications a therapeutic reality beyond the realm of research. The VetStem team is focused on developing new clinically practical and affordable veterinary solutions that leverage the natural restorative abilities present in all living creatures. The company's stated mission being "to extend and enhance the lives of animals by improving the quality of recovery in acute conditions, but also by unlocking ways to slow, stop and ultimately revert the course of chronic diseases". In addition to its' own portfolio of patents, Vet-Stem holds exclusive global veterinary licenses to a portfolio of over 55 issued patents in the field of regenerative medicine.
CONTACT INFORMATION
Superior Veterinary Surgical Solutions
Dr Jeff Christiansen
jchristiansen2(at)cfl(dot)rr(dot)com