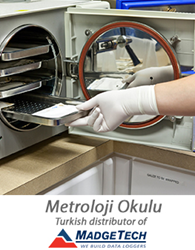 (PRWEB) May 24, 2016
Backed by decades of experience, Metroloji Okulu works with clients to choose the perfect data logger for each job, ensuring the best suited solution to meet regulatory requirements. Their professional staff also performs on-site installations and offer calibrations of MadgeTech data loggers at their lab in Istanbul.
Metroloji Okulu specializes in MadgeTech's line of medical and pharmaceutical data loggers that simplify validation, processing and testing. The HiTemp140 data logger series is an industry favorite, built to withstand the high temperature, humidity and pressure of autoclaves and sterilization cycles. The series includes a wide selection of probe lengths and styles including dual probe models as well as M12 connectivity with interchangeable probes for application flexibility.
Designed specifically for safe operation in hazardous areas, Metroloji Okulu also offers the RHTemp1000IS, an intrinsically safe temperature and humidity data logger designed to record and validate measurements throughout the EtO sterilization processes. The use of Ethylene Oxide for sterilization introduces potentially dangerous risks if not monitored accurately. The RHTemp1000IS safely provides accurate data and the intrinsically safe (IS) rating is required for EtO applications to prevent risk of explosion. The RHTemp1000IS works in conjunction with the MadgeTech Data Logger Software to provide advanced calculations for compliance reports mandated by government regulatory agencies.
MadgeTech is known worldwide as the industry expert and leading manufacturer of data loggers. For nearly a decade, MadgeTech and Metroloji Okulu have been working together to provide businesses in Turkey with accurate and reliable solutions that are held to the highest standards.
To learn about the entire line of MadgeTech products available in Turkey, contact Metroloji Okulu directly.