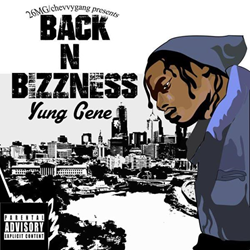 Fayetteville, NC (PRWEB) May 23, 2016
Today Coast 2 Coast Mixtapes announces the release of "Back N Bizzness", the latest mixtape by North Carlina Hip-Hop artist Yung Gene. The mixtape is currently available for streaming and download at the Coast 2 Coast Mixtapes website.
The mixtape features 10 tracks, including those below:
1. Let Em Talk (feat. QDH)
2. Trust Issues (feat. Kj Kwietstorm)
3. Do It Big (feat. Juice Da Truth & Jayee Richh)
4. Everyday (feat. Juice Da Truth)
5. Pillow Talkn (feat. Juice Da Truth & Packboy Fosace)
6. No Smoke (feat. Juice Da Truth)
7. Why (feat. Juice Da Truth)
8. My Turn (feat. Sunny)
9. Ain't Talkn Bout Nun (feat. Juice Da Truth & Packboy Fosace)
10. Back N Bizzness
Yung Gene is currently seeking press opportunities, interviews, features, and more. He can be reached through his official Twitter page.
About Yung Gene: Yung Gene is an incredibly talented artist who has traveled to many places, traveling in and out of state to perform his music to a wide ranging audience. He is very passionate about his craft and has been know to branch off into R&B music as well. Yung Gene has won first place in two C2C Events, one in 2015 and one this year 2016, and currently has his single, "Trust Issues", on the radio, so be sure to call and request it. For more info on Yung Gene you can visit his official Facebook fan page
About Coast 2 Coast Mixtapes: Coast 2 Coast Mixtapes are the most widely distributed mixtapes in the world, with over 100 million downloads/plays generated by over 300 volumes officially hosted by major artists. Coast 2 Coast has a solid reach in the new music industry with a digital magazine, DJ coalition, industry tips blog, yearly convention, and more. Coast 2 Coast Mixtapes represents a unique opportunity for artists of all urban genres, from major to indie. For more information, visit http://www.coast2coastmixtapes.com.