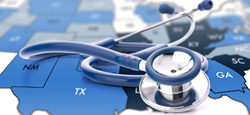 Medicaid Expansion is swelling plans with new, high-risk members, who have unmet needs and limited medical claims history
Annapolis, MD (PRWEB) May 24, 2016
The rapid growth of financial incentives and penalties linked to risk- and quality-based payments demands that health plans and providers continually track and monitor their performance or become financially disadvantaged compared to their peers. The stakes are only getting greater. On the financial side, the expansion of insurance coverage to higher-risk demographics through ACA Commercial and Medicaid Expansion, has heightened the need to accurately collect, report, and interpret member data, lest you wind up "funding" your competitors in the zero-sum game that is Medicaid Risk Adjustment. On the quality side, what was once a means of providing transparent performance data is evolving into a potent determinant of a plan's financial viability.
To compete amid this increasingly complex paradigm, Medicaid Managed Care Plans need to identify cost-effective interventions that will ensure appropriate risk-adjusted reimbursement, while minimizing waste. Pulse8 combines the most precise, confidence-adjusted Risk Adjustment Algorithms and advanced Quality Analytics with the most efficient Gap Closure Methodologies. Our Illumin8™-based product suite is now available for Managed Medicaid. This includes:

Reveal8™, Pulse8's flagship analytic engine, which has now been adapted for the CDPS, CDPS+Rx, and CRG Medicaid Risk Adjustment Models;
Calcul8™, Pulse8's financial reporting product can now calculate the Annual True-Up on the Retrospective Rate Adjustment by State for each Medicaid population (TANF, SSI, ABD, and Duals); and
Qualit8™, Pulse8's quality analytics product that supports all HEDIS®-based quality metrics, including CMS 5-Star, ACA Commercial QRS, and State-specific quality measures.
The recent Final Rule on modernizing Medicaid Managed Care introduces a Quality Rating System to Medicaid for the first time. It also adds CMS oversight to Medicaid risk adjustment, already in place in over two-dozen States. The byproduct is an ever more complicated terrain that can only be negotiated with the help of piercing analytics and flexible technologies.
"Pulse8 brings transparency to an industry that is often considered a dark science, illuminating opportunities to improve efficiency and quality, while capturing an appropriate share of a zero-sum, risk-adjusted pie," explained Pulse8's CEO, John Criswell. "Now in 39 States, plus DC, Managed Medicaid continues to become more prevalent and complex. Medicaid Expansion is swelling plans with new, high-risk members, who have unmet needs and limited medical claims history. With so much change afoot, it behooves plans to be nimble, resourceful, and analytically savvy. Pulse8 is uniquely equipped to help them in all three regards."
Pulse8 is the only Healthcare Analytics and Technology Company delivering complete visibility into the efficacy of your Risk Adjustment and Quality Management programs. We enable health plans and at-risk providers to achieve the greatest financial impact in the ACA Commercial, Medicare Advantage, and Medicaid markets. By combining advanced analytic methodologies with extensive health plan experience, Pulse8 has developed a suite of uniquely pragmatic solutions that are revolutionizing risk adjustment and quality. Pulse8's flexible business intelligence tools offer real-time visibility into member and provider activities so our clients can apply the most cost-effective and appropriate interventions for closing gaps in documentation, coding, and quality. For more company information, please contact Scott Filiault at (732) 570-9095, visit us at http://www.Pulse8.com, or follow us on Twitter @Pulse8News.