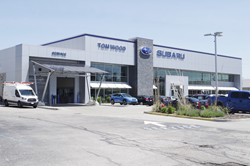 renewz is committed to helping dealers like Tom Wood around the world deliver on their citizens' dreams of a greener tomorrow - Sass Peress
Indianapolis, IN (PRWEB) May 24, 2016
In partnership with renewz sustainable solutions inc., Tom Wood Automotive Group has installed a solar powered electric vehicle carport at the newly built Tom Wood Subaru in Indianapolis. The solar charging carport system was developed by renewz and combines bifacial North American-made solar modules by Silfab Solar.
"Tom Wood is once again leading the way on cleaner, greener transportation practices that conserve energy, reduce pollution and improve our environment," Jeff Wood, President of Tom Wood Management, said. "Having been at the forefront of the electric vehicle revolution, when we began our journey with the THINK car, our group has maintained leadership in the Indianapolis area when it comes to supporting the electric drive community and Mayor Ballard's desire to help make the greater Indianapolis area, one of the greenest in transportation in America."
The iSun™ solar carport project was managed and developed by renewz of Montreal, Canada, one of the leading developers of advanced electric mobility technologies in the world. The Italian designed structure is designed to be 100-percent waterproof and fully wind, snow and seismic code compliant.
"renewz is committed to helping dealers like Tom Wood around the world deliver on their citizens' dreams of a greener tomorrow", said Sass M. Peress, CEO of renewz. "This solar carport clearly demonstrates how automotive dealerships can help power green consumers and fleets sustainably."
The innovative solar powered EV charging station will help reduce Indianapolis' greenhouse gas emissions by more than 200 tons and permit more than 500,000 miles of clean driving over its expected lifetime.
About renewz sustainable solutions inc.
renewz develops and delivers unique solar carport and EV mobility charging technologies. Based in Quebec and Florida, the renewz team provides clients with easy-to-implement renewable energy and electric mobility solutions to help increase environmental stewardship, together with reduced lifetime cost of operations, and superior financial returns. More information can be found at http://www.renewz.com
For more information:
Sass Peress
renewz sustainable solutions inc.
(514) 909-5047
sass(at)renewz(dot)com
Kevin Cauble
Tom Wood Management
(317) 688-6556
k(dot)cauble(at)tomwood(dot)com