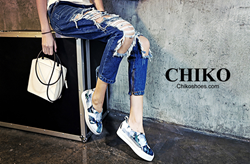 Chiko Shoes, a direct-to-consumer women's shoe fashion brand, is aiming to change the way women buy shoes by debuting up to date sleek new arrivals every day to keep the collections relevant, refreshing and interesting.
(PRWEB) May 25, 2016
Chiko Shoes, the direct-to-consumer women's shoes fashion brand, has launched new women's shoes collections for spring summer 2016.
The new Chiko Shoes spring and summer lines are inspired by street styles and runway designs, reflecting a variety of new women's shoes fashion trends including block and chunky heels, flatforms shoes, athletic sandals, square toe shoes, leather mules and metallic shades.
As a vertically integrated women's shoes brand, Chiko Shoes is aiming to change the way women buy shoes. Inspired by the latest street styles and runway designs, Chiko Shoes online store is updated with new arrivals every day to help consumers catching up on the trendiest shoes in fashion.
Priced around US $85 to US $150 per pair, featuring good quality materials with craftsmanship made to last, Chiko Shoes offer the mainstream consumers an opportunity to take advantage of current shoe styles at much more affordable price.
The brand, named after the co-founders' family names (chi-ko), traces its roots to shoe manufacturing business since the beginning of the century. Chiko Shoes expanded the business into retailing by the end of 2012 and soon discovered a new way to cater to the craving for the latest women's shoes at a fair price.
Leveraging the supplier relationships built up in the past, Chiko Shoes can address the current fashion trends with much shortened delivery time without compromising on the quality. The fashionable designs, impeccable craftsmanship and affordable price strike a chord with a passionate, chic and fashion forward clientele instantly.
The up to date sleek new shoe designs arrive in store every day to keep the collections relevant, interesting and refreshing. The dated designs are removed from Chiko Shoes online store usually after three months when the season is over or sold out before that. So buy it now and wear it now, or you will never see them again.
"Fashion is exciting because the trend is constantly changing. There is always something new every day for you to discover" said Judy Chin, the co-founder of Chiko Shoes, "Fashion news spread faster than ever. Our fashion conscious shoppers knew what they want way before the brick and mortar stores could stock them up. By sitting on top of the supply chain and selling directly to the consumers, Chiko Shoes fulfill the niche of this market."