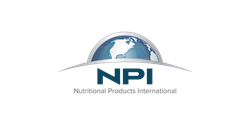 These kinds of events are really where you forge lasting connections with people throughout the industry," said Daly. "Our presence at this event is not only beneficial for us as a company, but also for all of our clients
(PRWEB) May 26, 2016
Nutritional Products International, a company that focuses on the global distribution and marketing of a wide variety of different nutritional products, announced it will attend the International Diet, Sports Nutrition & Vitamins ECRM show in Tampa, Florida from June 26-29.
The ECRM trade show gives companies of all types a chance to come and meet with some of the nutritional, health and sports product industry's foremost buyers and executives. While at the event, NPI will interact with some of the most influential people in the nutritional product industry and uncover new ways to help its clients achieve excellence in distribution and marketing on an international scale.
"This ECRM conference is a tremendous opportunity for us to continue to expand our operations and to provide outstanding value for our clients," said Brian Gould, VP of NPI. "We are very much looking forward to getting to Tampa and taking part in the conference, as well as meeting some new potential partners for our company moving forward."
Gould is the perfect person to represent NPI at such an event. With more than 20 years of experience in the world of retail, he has worked in purchasing, management and operations with several of the country's largest retail enterprises, including CVS and Amazon.com.
Prior to the event, suppliers will preload images and item data for the products and services they plan to present, while retailers provide item forms and spreadsheets that they use in planning the ECRM prescheduled meetings, according to buyer responsibility. At the event itself, suppliers will all have their own display rooms for their meetings with retailers, and all parties involved will use iPads or tablet computers to select items of interest, email recaps and take notes.
NPI Director of Global Operations Andre Daly is also attending the show. Daly has been involved in managing and establishing business startups at the executive level for more than 20 years. He began his career as an entrepreneur in his own right, founding several successful businesses. Today he focuses on helping other brands find success as they seek their niche in the marketplace.
"These kinds of events are really where you forge lasting connections with people throughout the industry," said Daly. "Our presence at this event is not only beneficial for us as a company, but also for all of our clients."
About Nutritional Products International (NPI):
Headquartered in Boca Raton, FL, Nutritional Products International (NPI) is a privately held company staffed with a complimentary team of marketing professionals that specializes in retail distribution of Nutraceuticals, Dietary Supplements, Functional Beverages, and Skin Care Products. NPI offers a unique proven approach for product manufacturers world wide seeking to launch or expand distribution of their products in the U.S. retail market. For more information, please visit http://www.nutricompany.com.