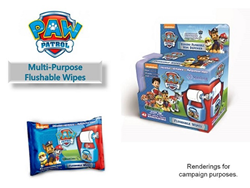 Bob Delaney, Owner and CEO, "We are excited about this opportunity and we are asking the community to support our PAW Patrol Flushable Wipes Campaign."
Slidell, LA (PRWEB) May 24, 2016
Sterling Global Products is launching a Kickstarter campaign focused on "PAW Patrol Flushable Wipes" which will feature a unique and patented refillable hanging wipe dispenser. The campaign kick-off video is located via this link https://youtu.be/WsO4qz2odco. The campaign will start June 1, 2016 and will end June 25, 2016. The goal is to raise $1,000 per day for a total of $25,000. The funds will be used to enter into an agreement with Nickelodeon for the use of PAW Patrol.
When asked how he became interested in flushable wipes. Bob Delaney, Owner and CEO, responded by saying, "As we all know, 'life is messy.' I have definitely experienced my fair share of messes as a contractor, a hurricane survivor and a dad. Our all-natural, biodegradable, multipurpose flushable wipes were created after I noticed men on my building crew were using baby wipes after going to the portable toilets. Unfortunately, most baby wipes are not biodegradable. I live in Sportsman's Paradise, Louisiana, where we are struggling with coastal erosion. I knew I had to develop a product that would not add to the environmental problems. It took years of research, but I finally developed a product I was proud to introduce to the market – Bob's Butt Wipes. My wipes are all-natural, sewer- and septic-friendly, and they disperse in under 3 minutes. They are excellent for men, but I want a product for children. After consulting with my team and supporters, we decided PAW Patrol would be the best way to encourage children to become more hygienic. Our wipes will come with stickers and tattoos to help with potty training and to reward positive behavior. We are excited about this opportunity and we are asking the community to support our PAW Patrol Flushable Wipes Campaign."
Updates on the Kickstarter campaign will be posted on Sterling Global Products' Facebook page, Instagram and Twitter along with their website: http://www.sterlingglobalproducts.com. Also, make sure you go to http://www.kickstarter.com and search for the project PAW Patrol Flushable Wipes.
PAW Patrol Flushable Wipes will be all-natural with aloe, biodegradable, eco-friendly, paraben-free, flushable and multi-purpose in use. The innovative dispenser will hang from most toilet paper holders and install in seconds with no hardware required. It will refill easily from a hanging position.
About Sterling Global Products
Louisiana building contractor Robert Delaney, CEO, Sterling Global Products, invented Bob's Butt Wipes after noticing his construction crews were using baby wipes while going to the portable toilets on building sites. That unlikely situation resulted in his patented refillable hanging multipurpose flushable wipe dispenser with product lines for men, women and children. With a continued commitment to the leaving the smallest ecological footprint possible, the flushable wipes are sewer- and septic-friendly, biodegradable, eco-friendly, paraben-free, and all-natural with aloe. Additionally, they disperse in under three minutes. Sterling Global Products is dedicated to supporting causes that improve the health and well-being of children, those impacted by natural disasters, and military veterans.
***