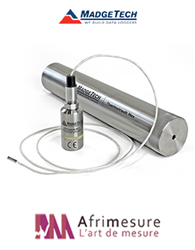 (PRWEB) May 25, 2016
Afrimesure specializes in providing clients with ideal measurement and monitoring solutions to industries ranging from medical and pharmaceutical, to food and HVAC facilities. Their knowledgeable staff also takes care of the installation, IQ/OQ/PQ qualification protocols, as well as on-site training.
For medical applications, Afrimesure offers a variety of MadgeTech systems available for sterilization and temperature monitoring, including the software and tools for validation. Built to withstand harsh conditions, MadgeTech's new DHS Data Logging System is an all in one depyrogenation and dry heat sterilization solution. This system measures temperatures up to 400 °C to monitor and can validate dry heat sterilization as well as depyrogenation cycles.
Another popular choice for monitoring high temperatures is MadgeTech's HiTemp140 data logger series. The small, yet rugged stainless steel device is built to withstand the harsh environment of autoclave monitoring and steam sterilization cycles. With the ability to select from a multitude of probe lengths and styles, this series has quickly become an industry favorite worldwide.
Afrimesure also offers the RHTemp1000IS designed specifically for safe operation in hazardous areas. This temperature and humidity data logger is intrinsically safe to record and validate measurements throughout the EtO sterilization processes. Since the use of Ethylene Oxide for sterilization introduces potentially dangerous risks, the intrinsically safe (IS) rating is required to prevent risk of explosion. The RHTemp1000IS works in conjunction with the MadgeTech Data Logger Software to provide advanced calculations for compliance reports mandated by government regulatory agencies.
To help meet regulation standards, the MadgeTech 4 Secure Software aids users in compliance with 21 CFR Part 11 requirements. The software contains the criteria needed to ensure electronic files are considered equivalent to paper records, with IQ/OQ/PQ protocols included.
Together, MadgeTech and Afrimesure are focused on creating the perfect solutions for data logging clients throughout the region.
MadgeTech is honored to partner with a distributor who shares the same high standards, and will continue work closely with Afrimesure to provide cutting-edge products to North Africa.
To learn about the entire line of MadgeTech products available in Tunisia and Algeria, contact Afrimesure directly.