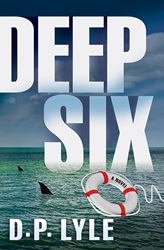 We all know Lyle's erudition and expertise - but who knew he was this funny?
Longboat Key, FL (PRWEB) May 25, 2016
The Story:
Ex-professional baseball player Jake Longly adamantly refuses to work for his father, wanting no part of Ray's PI world. He prefers to hang out at his beachfront bar and chase bikinis along the sugary beaches of Gulf Shores, Alabama. But Ray could be persuasive, so Jake finds himself staking out the home of wealthy Barbara Plummer, a suspected adulteress. The mission seems simple enough―hang around, take a few pictures, sip a little bourbon. Except Barbara gets herself murdered right under Jake's nose.
When Jake launches into an investigation of his target's homicide, he quickly runs afoul of Ukrainian mobster Victor Borkov. Aided by his new girlfriend Nicole Jemison and Tommy "Pancake" Jeffers, his behemoth employee with crazy computer skills, Jake tries to peel away the layers of the crime. The deeper the intrepid trio delves, the more murders start to pile up, leading them to Borkov's massive yacht―where they just might be deep-sixed.
The Reviews:
"We all know Lyle's erudition and expertise - but who knew he was this funny?"
―Lee Child, New York Times best-selling author of Make Me
"Lyle debuts a new series starring Jake Longly, former baseball player, now reluctant PI working for his father. Assigned to watch a wealthy woman believed to be having an affair, he quickly learns that her paramour is Jake's own ex-wife's new husband. Then the woman is murdered, and Jake, who has a mouth that speaks before his brain has time to think, finds himself in deep trouble. Readers who enjoy smart-mouthed PIs like Robert Crais' Elvis Cole will want to watch this series develop."
―Booklist
"Corruption, vendettas, cartel killers, oh my! Deep Six puts the fun back into late night reading with this fast-paced romp through murder and mayhem. Prepare to flip the pages."
―Lisa Gardner, New York Times best-selling author of Crash & Burn
"D.P. Lyle returns in superb form in Deep Six. Smart, wickedly funny, expertly constructed and deftly executed, Lyle is at the top of his game as he takes his readers on a romp on the Gulf Coast that goes down as smoothly as a cold beer on a hot day at a bar next to the beach. Jake Longly is a character worth rooting for, and Lyle's fans will be cheering for an encore. Find a comfortable chair and plan to stay up late to enjoy the ride. Highly recommended. "
―Sheldon Siegel, New York Times best-selling Author of the Mike Daley/Rosie Fernandez novels
"Readers will love Jake Longly―ex-big league ballplayer, beach bar owner, and reluctant PI, and the sharply defined ensemble of characters in Deep Six is just as outstanding. Page turning action and knock out dialogue from a master craftsman and story teller. I devoured this one!"
―Robert Dugoni, #1 Amazon and New York Times best-selling author of Her Final Breath
"In Deep Six, gifted storyteller D.P. Lyle has crafted yet another winner. A comedic thriller that weaves through the Gulf Coast with wild abandon. This book has it all, memorable characters, a stunning plot, and as always, Lyle's impeccable sense of place. Bravo!"
―Philip Donlay, best-selling author of the Donovan Nash series
"Fans of Carl Haissen will love this new mystery series from D.P. Lyle"
About the Author:
D. P. Lyle, MD is the Macavity Award winning and Edgar Award nominated author of many non-fiction, thriller and suspense titles, short stories, and essays. He has worked with many novelists and with the writers of popular television shows such as Law & Order, CSI: Miami, Diagnosis Murder, Monk, Judging Amy, Peacemakers, Cold Case, House, Medium, Women's Murder Club, 1-800-Missing, The Glades, and Pretty Little Liars. For the past 35 years, he has practiced Cardiology in Orange County, California. Learn more at http://www.dplylemd.com