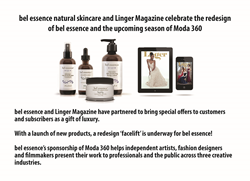 ...I decided to give Bel Essence a try. AWESOME....truthfully, I am ordering more and you will not regret buying this cream. Also, I am very proud to give this product a 5 star rating." NELDA, Bel Essence customer
Philadelphia, PA (PRWEB) May 25, 2016
Bel Essence and Linger Magazine join together to fund a redesign of the Bel Essence brand - Bel Essence Skincare is getting a facelift! Bel Essence is a growing natural skincare brand receiving high marks on review websites, and has recently grabbed the attention of national media for an upcoming television appearance. To celebrate the continued growth, Bel Essence is redesigning the brand with a new logo, website and packaging presentation and launching new high quality products. The Indiegogo campaign presents an array of perks, such as discounts on skincare products, a sneak peek of the new dry skin and eczema relief cream, and access to Linger Magazine.
The Indiegogo campaign can be found at https://igg.me/at/belessence/9497854
Bel Essence and Linger Magazine are sponsors of Moda 360, an event fusing fashion, art and film. With their support of the event, independent fashion designers, artists and filmmakers from around the world have a platform to present their work across three creative industries. Customers and subscribers allow the companies to increase their support and help emerging creative artists achieve their goals.
Bel Essence is a natural skin care collection with a difference. Based on a simple idea, Bel Essence gives skin the nutrition it needs to heal, regenerate and rejuvenate itself, combining ingredients just as nature herself manufactures them to give the full benefits of each ingredient. Bel Essence combines natural and organic oils that are the richest sources of vitamins, antioxidants, omega 3's and fatty acids, the essential components for healthy, youthful skin. Bel Essence gives skin what nature intended and selects and combines oils with beneficial properties for maximum results without harmful chemicals; nourishing skin to give both instant improvement and long term transformation.
Linger Magazine is a luxury publication built for aficionados with a fondness for fashion, beauty and the arts. Over the past six years, Linger Magazine has established itself as a resource for luminous beauty discovery, divulging content and intriguing editorials. Linger Magazine has gained validation as a respected media platform with a nomination by Niche Media as one of the Top 20 Best Niche Magazines. The celebrated publication has been supported by PYP Summit, Pencil Me In Cosmetics, Bel Essence, and JAMAH Handbags.