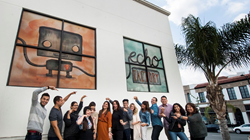 We're an agency who works in all kinds of industries; we need administrators who put as much creativity into organization and delegation as our artists and writers put into deliverables. Peyton and Juliette are exactly the rare types we were looking for.
Pasadena, Calif. (PRWEB) May 25, 2016
Award-winning Pasadena ad agency Echo-Factory today announced it has officially hired the former entertainment manager for the Los Angeles Clippers and former audience development special projects director for Complex Media, a New York-based youth culture media platform founded as a bi-monthly magazine by fashion designer Marc Ecko.
Juliette Ocon serves as Echo's traffic manager. Previously with the Clippers, Ocon apprenticed under the chief marketing officer of Brooklyn Sports & Entertainment—an organization comprising the Barclays Center, the Brooklyn Nets and the New York Islanders—before moving from the East Coast to work with the Clippers. "I chose marketing as a career because I love relating to consumers and being able to evoke emotion with that insight," Ocon said. "As a traffic manager, I get to exercise my organizational strengths and passion for structure while also being able to have a hand in consistently fresh, innovative, creative content."
At Brooklyn Sports & Entertainment, Ocon helped move the Islanders from Long Island to Brooklyn. "Managing those projects on top of our already existing franchises [Barclays Center and the Nets] really helped prepare me for the role of traffic manager at Echo."
Peyton Moore is Echo's senior brand manager. In 2013, Complex Media hired Moore to build a community for a newly acquired music platform. She later joined the company's business development team where she managed Complex's contesting program, content syndication and music platform partnerships. Moore has worked with teams on projects for entertainers including Rihanna, Iggy Azalea, Skrillex, Diplo, ATRAK, Steve Aoki, Tommy Lee, Taylor Hicks and Shepard Fairey, as well as the Tony Hawk Foundation. She also managed contests for Comedy Central, the cable network STARZ and broadcast network CBS, and worked closely with clients including Live Nation, BET, Spotify and Business Insider.
The two women, who coincidentally lived in the same Brooklyn neighborhood at different times, said they share the same overarching goals for the agency and look forward to working together to achieve those goals.
Ocon said her goal as traffic manager for Echo is in sync with the existing company culture. "Echo-Factory aims to make great companies even better, and that's what I want to do as part of the Echo team," she said. "This team uses a wide range of tactics to grow businesses in an even wider range of industries. I believe that the best way to provide quality results is through organization and communication, and I hope that with those tools I can establish an even more efficient workflow for our growing agency."
Moore, who is also former marketing director for Cloud 9 Adventures, an international live music event producer out of South Florida, said, "I want to help expand our client base into the entertainment arena. We have an amazingly young and creative team of people well-suited for this kind of growth. My background is heavy on Millennial marketing, and I look forward to putting that knowledge to use."
Echo-Factory CEO Mike Schaffer said, "We've spent the last few years building a super competitive, diversified team. Today, we've got the former social manager for Guitar Hero, a past Google team member, former members of the Nestlé design team, an art director on campaigns for the 'Smart Car,' Boot Barn, and Audi, a photographer who shot original work for Mike's Hard Lemonade and Honda, a copywriter who has published film reviews and worked on special events with Larry king… the list is long and getting more and more awesome. I'm confident that the experience and energy that Peyton and Juliette are bringing to the team is another next-level step for us—another phase in Echo-Factory's rise to the top. We've had very big goals from the beginning, and this is an incredibly exciting time for us because we're watching those dreams materialize."
Echo's Chief Creative Officer Dea Goldsmith said she shares Schaffer's enthusiasm. "One of the things that sets us apart as an agency is that the creative vein flows through every department. It's not one of these teams where there's this unstated wall between the creatives—the 'idea people'—and the administrators—the purely left-brained, logical ones," Goldsmith said. "That's very important to us, because we're an agency who works in all kinds of industries; we need administrators who put as much creativity into organization and delegation as our artists and writers put into deliverables. Peyton and Juliette are exactly the rare types we were looking for."
Moore, who said she is a few credits short of a double minor in philosophy and religion, holds a Bachelor of Science in Clothing and Textiles and a Minor in Marketing from Appalachian State University in Boone, N.C. Ocon earned a Bachelor of Science in Business from Adelphi University in Long Island, N.Y.
About Echo-Factory: Echo-Factory is an advertising agency that helps businesses grow. The agency services companies seeking rapid growth and those considering mergers and acquisitions events in the near future. Renowned for its custom content creation, the agency is also known for its Internet marketing services, including website development, SEO content creation and social media management. Echo-Factory's diverse client list ranges from clean-tech and action sports to consumer medical technologies and fashion. View the Echo-Factory portfolio at http://www.echo-factory.com.