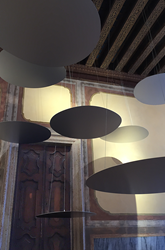 Muskegon, Michigan (PRWEB) June 23, 2016
Biennale - Venice Italy
May 28th thru November 27th 2016
The 15th International Architecture Exhibition
Lorin Industries, Inc. of Muskegon, Michigan is proud to sponsor INFINITY designed by Jennifer Marmon, principal of Platform for Architecture and Research (PAR), with engineering support by ARUP.
INFINITY will be part of TIME SPACE EXISTENCE, an exhibition organized by Global Art Affairs Foundation (GAAF) as part of the 15th Annual Architecture Biennale in Venice, Italy to be displayed at Palazzo Mora.
The Exhibit
The TIME SPACE EXISTENCE special exhibition utilizes .080" gauge ClearMatt® anodized aluminum provided by Lorin Industries, Inc. The display is comprised of various sized floating discs suspended by a series of steel cables. PAR's goal: "Provide an atmosphere that can be experienced and used in many ways. The extraordinary light structure will reveal a subtle play of light and perception, its reflective forms changing according to the light, water and sky, creating a contemplative environment for visitors to experience. The floating anodized aluminum elements will provide an undulating field for activity where people can come together during celebrations and events at Palazzo Mora."
About Lorin Industries, Inc.
For over 60 years, Lorin Industries has been providing coil-anodized aluminum to markets worldwide. Our global leadership in anodized aluminum finishing within the architectural market continues today through innovation and creativity. Lorin has worked with some of the world's leading architects, designers, and fabricators, creating new and exciting building designs. Whether it is for exterior wall cladding systems, roofing systems, sunscreens, interior panels, or decorative interior applications, the possibilities are infinite. The natural beauty of Lorin's anodized aluminum finishes brings newly constructed and renovated buildings to life, while providing a strong durable surface that will never chip, flake, or peel. So if you are looking for new ideas and designs in metal architecture, come talk to Lorin. At Lorin, we offer infinite possibilities in aluminum finishing solutions.
Visit http://www.lorin.com or call (800) 654-1159 to learn more about Lorin's products and the Biennale 15th International Architecture Exhibition in Venice, Italy.
WESTMET INTERNATIONAL, of Glendora, CA assisted in providing deburring services and contractor support.
ClearMatt® is a registered trademark of Lorin Industries, Inc.
Press Contacts:
Steven Soderberg,
Corporate Marketing Manager
Lorin Industries, Inc.
1.231.722.1631 stevensoderberg(at)lorin(dot)com