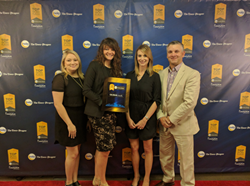 "After 12 wonderful years, I can honestly say, Gilsbar is like a family and I'm proud to be a part of it."
Covington, LA (PRWEB) May 31, 2016
Gilsbar has been awarded a 2016 Top Workplaces honor by The Times-Picayune. This is the second year Gilsbar has been selected for this honor and only the second year of the program. The awarding of a Top Workplace designation is based solely on the results of an employee feedback survey. Several aspects of workplace culture were measured, including Alignment, Execution, and Connection, just to name a few.
Organizations must meet a strict standard for organizational health to be considered a Top Workplace. The employees, who live the culture every day, are the best judge of how well a company meets this standard. Research has shown that the most important things to employees are a strong belief in where the organization is headed, how it's going to get there, and the feeling that everyone is in it together.
When asked about her experience at Gilsbar, Kathleen Willis, a Care Management nurse in Gilsbar's Population Health Management division, stated, "Working at Gilsbar for the past 12 years has been the most rewarding job of my 39 years in nursing. I love my patients and am honored to take part in some of the most challenging chapters of their lives. Most importantly, I appreciate the strong supportive culture at Gilsbar and feel respected and valued for my contribution to the company's success. After 12 wonderful years, I can honestly say, Gilsbar is like a family and I'm proud to be a part of it."
###
About Gilsbar, LLC
Established in 1959, Gilsbar, LLC® is one of the largest privately-held insurance services organizations in the country. Recognized as a catalyst for creating healthy businesses, Gilsbar, LLC® offers self-funded and fully-insured benefit plan management services, along with Wellness, Advocacy, and overall Population Health Management. Gilsbar, LLC's integrated delivery model improves the health and well-being of its members, resulting in significant health plan savings for its clients.
Gilsbar, LLC® has been honored by Inc. magazine for its sustained growth, Modern Healthcare and Business Insurance magazines as a Best Place to Work, and WELCOA and the American Heart Association for its proven wellness methodology.
For more information, visit http://www.Gilsbar.com.