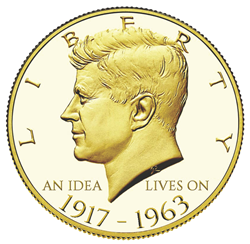 "One person can make a difference, and everyone should try." - John F. Kennedy
(PRWEB) May 28, 2016
The words of JFK's June 10, 1963 Commencement Address on the nearby American University campus are as relevant today: https://youtu.be/0fkKnfk4k40.
Since November 22, 2013, a precedent has been established - and even well received by The Kennedy Center's staff and local media - that the north/public terrace of this building (facing Watergate) is a most appropriate place for gathering in memory of John F. Kennedy every November 22nd (and May 29th, JFK's birthday), peaceably assembling and petitioning by one's presence for: 1) Immediate, un-redacted release of all still withheld assassination-related records; 2) Abolishing, or reining in the CIA to its original, intelligence-only mandate; 3) Ending the intimidation of official secrecy and the violence it perpetuates.
A "soap box" format will provide for any and all present to speak (for perhaps two minutes each, as time and attendance permit) honoring JFK, and in petition for redress of the above and related grievances.
Afterwards, those present may disperse and peaceably reassemble elsewhere, perhaps in proximity to the White House (the Capitol, or elsewhere), in further petition for redress of grievances.
All are asked to view their participation not as a protest or demonstration - not "civil disobedience" - but instead as "Civil Obedience" of the highest order, peaceably assembling in the most Constitutional of manners, that JFK may be honored and progress achieved towards the stated objectives.
Articles regarding JFK Vigil assemblies at OpEdNews include: http://tinyurl.com/k7v64tp
Contact: Karl Golovin (JFKvigil(at)gmail.com) 703-599-0567
Eventbrite Invitation Link: http://www.JFKvigil.com