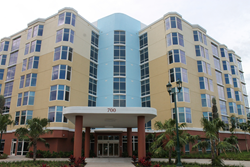 This is an incredibly fulfilling time for John Knox Village as we celebrate the culmination of our vision – to change the face of care and rehabilitation services in South Florida.
Pompano Beach, Florida (PRWEB) May 26, 2016
The Woodlands at John Knox Village, Florida's first Life Plan Community Green House® Project offering a new model of care for living and healing, celebrated its grand opening, today. The Woodlands at John Knox Village is based on three core values: Meaningful Life in a Real Home provided by Empowered Staff.
"This is an incredibly fulfilling time for John Knox Village as we celebrate the culmination of our vision – to change the face of care and rehabilitation services in South Florida," said Gerald Stryker, president and CEO of John Knox Village. "Our residents' dedication and determination has fostered an incredible sense of community – a home where families and elders will come together and set a new progressive standard for healing as set forth in The Green House Project model."
The seven-story, 144-suite residence, located on the existing 70-acre campus of John Knox Village, serves the more than 900 residents and those in South Florida requiring greater levels of care. With the main floor reserved for common and social areas, the remaining six floors each have two Green House homes with 12 private bedroom suites with personal bathrooms surrounding a hearth living room, open kitchen and dining room to enjoy gourmet meals.
Residents are cared for by the Shahbazim (a Persian word defined as royal caretaker) who are Certified Nursing Assistants trained to go above and beyond protecting, sustaining and nurturing in order to develop a deep knowing relationship with the elders and their family members. There are six dedicated Shahbazim per home.
One of the most compelling and interactive features of The Green House Project is participation; the elders and family members, if able to, can become as involved as they wish with the daily activities; including housekeeping, laundry and helping prepare the fresh meals. The innovative, $34 million project also features the Palm Bistro, rehabilitation services, the Rejuvenation Salon & Spa, the Wellness Center and the Life Enrichment Center available for social gatherings and other occasions.
"The Woodlands offers a highly sophisticated level of care," said Mark Rayner, director of health care services at The Woodlands at John Knox Village. "These private residences were designed to protect our elders' privacy, honor choice and assure their dignity. The institutional 'feel' of a hospital or rehab facility has been removed, creating a home-resort-like environment which is the fundamental philosophy of The Green House Project; where individuals thrive."
Key assets that separate The Woodlands from other choice rehab facilities is the John Knox Village residents' involvement, sense of community and dedication to maintaining a superior model of care. The project will be utilized as a training ground and operational model for other future planned residences incorporating The Green House Project philosophy.
The Woodlands at John Knox Village was designed by RDG Planning & Design (Architects John Birge, Scott Pfeifer and Kevin Ruff). The Weitz Company served as the construction manager, and William Gallo, of Gallo Herbert Architects, worked with John Knox Village as the Owner's Authorization Representative. The John Knox Village Foundation was instrumental in researching and raising more than $5 million to build the innovative care residences.
"The Woodlands is the first Green House to be initiated by resident involvement," said Nancy Lee Matthews, one of several John Knox Village residents sharing input when the project was being planned. "It was us, the residents, who initially researched The Green House and presented the information to administration and the board of directors."
John Knox Village is a Life Plan Retirement Community that includes independent living residences for active senior residents, plus assisted living and skilled nursing care options. The 70-acre, not-for-profit community is home to more than 900 residents with a caring staff of 650 employees. Residents have access to a choice of more than 30 different types of lifetime housing residences, from convenient apartments to single-story villas, plus home maintenance, social activities, numerous amenities and on-site nursing care.
For additional information about The Woodlands at John Knox Village, please call (954) 783-4041 or visit http://www.WoodlandsJKV.com. Discover more about The Green House Project by visiting http://www.thegreenhouseproject.org.