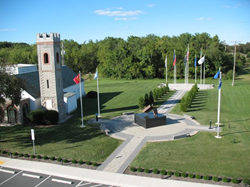 Providing our service for this project is very exciting as NFC adoption grows and it also reminds us to honor those who have served their country and community. - COO, Nathan Neil
Letterkenny, PA (PRWEB) May 27, 2016
The Franklin County Veterans and 9/11 Memorial Park honors all veterans of America's military history, prisoners of war, servicemen and women missing in action, the casualties of September 11, 2001 as well as the first responders and citizens who saved lives. The memorial was dedicated by the First Counselor to the Apostolic Nuncio, the Vatican's Ambassador to the United States, just as was done by the Apostolic Nuncio for this military chapel in 1945. Also in 1945, Italian prisoners of war, housed at Letterkenny Army Depot, built the chapel. It used stone from many of the original farm-houses on the depot site. The chapel features a 65 foot Florentine belfry, a San Francisco entrance, and a Roman interior.
On May 21, 2016 after the Armed Forces Day POW-MIA remembrance service at Historic Letterkenny Chapel and Franklin County Veterans and 9/11 Memorial Park, a dedication to the newly constructed Franklin County "Trail of Service" took place. The trail was constructed by CASHS Navy Junior R.O.T.C. Cadets, Boy Scouts and other community organizations and volunteers. The trail is 600 feet long, 5 feet wide and includes 20 digital access kiosks that visitors can stop at along the walk. With the use of a cellphone and NFC technology, visitors are able to tap the NFC chip on any of the kiosks to learn more information about the Historic Letterkenny Chapel, the Veterans and 9/11 Memorial Park, and other park related topics of interest.
NFC (Near Field Communication) is quickly changing all things physical to digital. This technology enables simple and safe two-way interactions between electronic devices, allowing consumers to perform contactless transactions, access digital content, and connect electronic devices with a single touch. In this case, the technology is being used to create an educational tool. By placing tags on the 20 kiosks throughout the Trail of Service, visitors are encouraged to place their phone on the tag so they can be prompted to additional information about the park, flags located outside of the trail, the trees and vegetation surrounding it, etc. NFC technology is a fun, simple way for people of all ages to connect and interact with their surroundings. Visitors no longer need a tour guide to educate them on what they see, they can simply tap their phone to any NFC-enabled device and it will allow for current and future generations to have all the information they need at their fingertips.
The trail serves as a special way of describing the significance of the chapel and the entire park. Throughout the next year, coordinators and volunteers that worked with this project hope to install benches that are made of recyclable material and an LED system powered by solar panels that would illuminate the kiosks at night. These additions would allow for a very green, environmentally friendly trail. Paul Cullinane, program coordinator, would like to plant native trees around the area so that children may learn more about them. He would also like to create pathways that connect the start and end points of the trail to make it easier for visitors to walk it.
The website for the trail was designed and built by Purple Deck Media. They are also responsible for creating and managing the NFC tags that you see along the trail. Purple Deck Media is a cloud based software company that specializes in mobile applications. Their mission is to increase the availability, security, and delivery of information across mobile platforms. Their leading mobile product – MobileDeck™ - provides the fastest way to quickly create your very own mobile application. Their cloud management platform for NFC and IoT (Internet of Things) – TapLive™ - provides a way to streamline content delivery, information gathering, and much more. It is with these two products that the kiosks on the Trail of Service can come alive in a fun and interactive way. For more information on the trails website, go to http://www.VerteranTrailPA.org.
Paul E. Cullinane, program coordinator and a veteran himself, stated that "The whole park is very personal to me and I am very proud and pleased to be a part of this. I am overjoyed that we were able to implement the vision that Reverend Bill Harter had several years ago and I am excited to have created a learning environment for people of all ages."