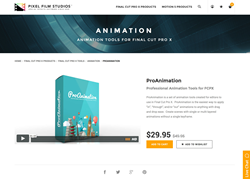 With ProAnimation, Editors are able to create single or multi-layered animations without using a single keyframe
Aliso Viejo, California (PRWEB) May 27, 2016
"With ProAnimation, Editors are able to create single or multi-layered animations without using a single keyframe," said Christina Austin - CEO of Pixel Film Studios.
ProAnimation is a set of animation tools created for editors to use in Final Cut Pro X. ProAnimation is the easiest way to apply "in", "through", and/or "out" animations to anything with drag and drop ease. Create scenes with single or multi-layered animations without a single keyframe.
ProAnimation is a highly functional and useful set of animation tools that allow video editors to animate anything in, through, and/or out within Final Cut Pro X. Choose from basic or dynamic animation presets with intuitive customization options in the form of drop-down menus and sliders.
ProAnimation makes animating anything super simple in Final Cut Pro X. First, choose scrub over a ProAnimation preset to preview the animation. Next, drag an animation above media in the FCPX timeline. Lastly, utilize on-screen controls to tweak the orientation of the media and make use of the controls in the inspector window to tweak the look of the animation.
ProAnimation presets are uniquely packed with customization options. With drop-down menus, Final Cut Pro X users can instantly change the direction of animations, the amount of rotation, and alter speed methods. Additionally, editors can intensify or weaken bouncy animations with "strength" and "drag" sliders respectively.
"Through" animations allow users to apply constant and/or oscillating animations to anything in the Final Cut Pro X timeline. With "through" animations, editors can adjust the speed with a simple slider. To increase the duration of the animation, simply increase the length of the animation title layer.
This ProAnimation Plugin is the easiest way to achieve simple and/or multi-layered animations in Final Cut Pro X. Easily animate objects in, through, and out without a single keyframe. Pixel Film Studios makes animating easy in Final Cut Pro X.
Established in 2006, Aliso Viejo, California-based Pixel Film Studios is an innovative developer of visual effects tools for the post-production and broadcast community. Their products are integrated with popular non-linear editing and compositing products from Apple FCPX. Apple, the Apple logo, Mac OS X, and Macintosh are registered trademarks of Apple Inc. in the U.S. and/or other countries. All other trademarks and trade names are the property of their respective owners.