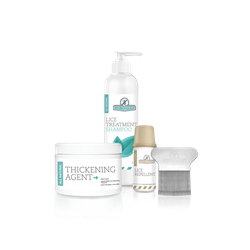 We're excited to make the products available. They've been working for us for decades and they'll work for parents too.
Miami, Florida (PRWEB) May 27, 2016
With cases of head lice and super lice among children and teens consistently on the rise, Miami-based Lice Troopers, the recognized name in professional lice removal, is launching its very own line of at-home treatment products.
Unlike over-the-counter products, which contain harsh chemicals like pyrethrins, the Lice Troopers home treatment line is pesticide-free, and safe for even the youngest children. Product offerings contain everything from a specialized shampoo to a daily lice preventative solution, plus the specialized metal nit comb that has made the company's method so successful.
The problem with pyrethrins goes beyond the health risks. As the parasite and its eggs (nits) become more resistant to the pesticides that have been traditionally used to treat them, parents find themselves wasting money on treatments that now have reported success rates of less than 25%. Super lice are increasingly hard to kill.
This is why Lice Troopers developed a method to remove lice, instead of trying to kill them. Using all natural products and a state-of-the-art comb, plus a good amount of patience, they treat children and adults without the use of chemicals. And now, for the first time ever, they are making their products and comb available to parents who want to handle the task at home.
Said Arie Harel, owner and operator of Lice Troopers, "We're excited to make the products available. They've been working for us for decades and they'll work for parents too. Most parents will still choose to come to the salon, because our technicians are experts and they can handle the job in about an hour. But we have a lot of parents who are up for tackling the bugs at home and that's why we're launching the line."
The new Lice Troopers home lice removal product line will be available in the company's treatment salons and online by mid June of this year.
Lice Troopers is the all-natural, guaranteed Head Lice Removal Service™ that manually removes the head louse parasite safely and discreetly in child-friendly salon settings, or other chosen location. Providing safe solutions for frantic families, the Lice Troopers team has successfully treated thousands of families nationwide, with services widely recommended by pediatricians and reimbursed by many major health insurance carriers, flexible spending accounts and health savings accounts.