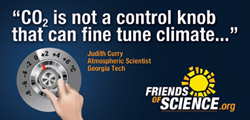 We must not make the same mistakes as Ontario, the UK, Germany and Denmark
Calgary, Alberta, Canada (PRWEB) May 26, 2016
Friends of Science Society says Albertans should be very alarmed at the Alberta Climate Change Leadership Plan and the recent tabling of Bill 20 with its carbon tax provision as reported in the Calgary Herald, May 23, 2016. Friends of Science Society are demanding an honest debate on global warming and climate change and demanding the Alberta government provide due diligence on climate science as well as a cost-benefit analysis.
To help Albertans understand climate science uncertainties and policy consequences Friends of Science have begun an honest debate, on their blog and in social media, sparked by the challenge of Ecojustice Canada Society as reported in the National Observer on Dec. 3, 2015.
Friends of Science published an interview with broadcaster and free speech advocate Ezra Levant of The Rebel Media, which reflects their opinion that the Ecojustice complaint is nothing more than 'lawfare' designed to 'silence you… to waste time and money.' LINK: youtu.be/o5U1CV_DTno
Friends of Science Society makes the point that, before invoking a carbon tax justified by claims of threat of human-caused global warming/climate change, the Government must first provide empirical evidence demonstrating that there actually is some threat; also the government must provide a cost-benefit analysis.
"The physical processes that control global temperature fall within the scientific discipline of Geophysics and thus under the Alberta Engineering and Geoscience Professions Act," says Norm Kalmanovitch, P. Geoph. and resident scientific adviser to Friends of Science. "Only qualified licensed APEGA Professionals are permitted to advise the Government on matters of Geophysics. The Government needs a full report signed by a qualified Professional Geophysicist stating that CO2 emissions are causing the world to warm to a dangerous level and that by Alberta implementing a carbon tax and switching from coal to alternate energy sources this dangerous global warming will be reduced enough to justify the cost to Albertans. This has not been done."
Friends of Science says in their opinion and based on the evidence, their report "Burning Questions" and the recent Fort McMurray wildfires reported by The New York Times May 3, 2016, demonstrate that coal is not an air quality issue in Alberta. Accordingly, in the opinion of experts Friends of Science consulted, the estimated >$22 billion in costs to phase-out coal early, as well as estimated annual subsidies of a billion dollars a year for renewable wind/solar will drive power prices sky high.
"We must not make the same mistakes as Ontario, the UK, Germany and Denmark," says Kalmanovitch. "We have the "Lessons Learned" from Finadvice on Germany and Dr. Peiser's evidence from "To Heat or Eat: Europe's Climate Policy Fiasco" of 2013. It would be a grave and costly error by the Alberta government to proceed on purely ideological grounds."
LINKS: finadvice.ch/files/germany_lessonslearned_final_071014.pdf
friendsofscience.org/index.php?id=653
About
Friends of Science has spent a decade reviewing a broad spectrum of literature on climate change and have concluded the sun is the main driver of climate change, not carbon dioxide (CO2). Friends of Science is made up of a growing group of earth, atmospheric and solar scientists, engineers, and citizens.
Friends of Science Society
P.O. Box 23167, Mission P.O.
Calgary, Alberta
Canada T2S 3B1
Toll-free Telephone: 1-888-789-9597
Web: friendsofscience.org
E-mail: contact(at)friendsofscience(dot)org