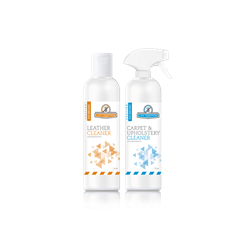 Our new line of products helps parents take care of delousing their homes quickly and easily.
Miami, Florida (PRWEB) June 01, 2016
While Lice Troopers, the Miami-based head lice treatment service, is known for its professional removal services, the company is now releasing a line of products that help put the focus on the other places head lice lurk: the surfaces of the home.
While the company does offer professional home inspection and cleaning services, they've recently released a line of home cleaning products that are meeting customer demand for products they can keep on hand and use at home as needed.
While the louse is a parasitic creature that cannot survive long away from its human host, the bugs and nits can live up to a few days on the surfaces of the home. That means that even if the infested individual is declared lice free, coming back to a lice infested home can soon launch a relapse.
It's for this reason that many parents find themselves frantically vacuuming curtains and washing and rewashing bedding in an attempt to get the bugs out of their home and prevent re-infestation. Lice Troopers' home cleaning products urge a more moderate, yet effective, approach. The home line includes a Carpet and Upholstery Cleaner and a Leather Cleaner.
With each, the user simply needs to spray the surface and then vacuum or, in the case of leather, wipe thoroughly with a cloth. One cleaning is all that is required to get the home lice free. In addition to cleaning surfaces, Lice Troopers reminds parents that any bedding used during the lice infestation should be washed in hot water and dried in a hot dryer. Hairbrushes and combs should be soaked in boiling water, and anything that cannot be cleaned, should be isolated in a sealed plastic bag or discarded.
Said Lice Troopers owner and operator Arie Harel, "Parents have a lot of anxiety around lice and cleaning the home after an infestation—they're afraid the bugs and eggs are lurking everywhere just waiting to get back in their hair. Our home inspection and cleaning services will always be available, but our new line of products helps parents take care of delousing their homes quickly and easily."
The Lice Troopers line of home lice removal and cleaning products will be available in their four Miami salons and on their website mid-June.
Lice Troopers is the all-natural, guaranteed Head Lice Removal Service™ that manually removes the head louse parasite safely and discreetly in child-friendly salon settings, or other chosen location. Providing safe solutions for frantic families, the Lice Troopers team has successfully treated thousands of families nationwide, with services widely recommended by pediatricians and reimbursed by many major health insurance carriers, flexible spending accounts and health savings accounts.