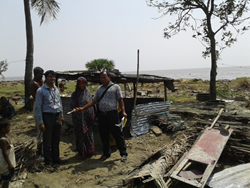 "Disaster responses traditionally focus on the immediate needs of survivors," said Dr. Mohammed Musa, Executive Director of BRAC. "We are focusing on meeting basic needs, while also ensuring that children are kept safe and can continue learning."
Dhaka, Bangladesh (PRWEB) May 26, 2016
Cyclone Roanu hit the coast of Bangladesh at 11:00am on May 21, 2016. Winds reached speeds of 55 miles per hour and caused massive damage to houses, businesses and agricultural resources. Heavy rainfall inundated the southern coastal regions of the country and caused severe landslides. More than 80,000 homes were destroyed or partially damaged.
Roanu was half the strength of Cyclone Sidr that killed 3,447 people in 2007 and caused millions of dollars in damage. A coordinated community response, led by authorities and supported by BRAC and other agencies, helped 500,000 people relocate to cyclone shelters the day before the storm hit. More than 3,000 people took refuge in one of 36 BRAC shelters. To date, 24 deaths have been recorded, but authorities are still assessing the damage.
BRAC is providing emergency response services including water distribution, sanitation (temporary toilets), food supplies and cash transfers to families who have been affected by the cyclone. In any disaster, the most vulnerable populations are women and children. BRAC's response will ensure safe and hygienic latrines for women and adolescent girls and for people with special needs.
"Disaster responses traditionally focus on the immediate needs of survivors," said Dr. Mohammed Musa, Executive Director of BRAC. "Children and young people are often forgotten and become the most vulnerable group. We are focusing on meeting basic needs, while also ensuring that children are kept safe and can continue learning."
As the relief effort continues, BRAC is working with government authorities and partners to assess the extent of the damage, especially in remote areas. BRAC is leading the first phase of the assessment in Patuakhali and co-leading the assessment in Cox's Bazar, two of the most affected districts, marking the first time a Bangladesh-based NGO has participated in a Joint Needs Assessment.
BRAC's medium-term priorities are to minimize the interruption to education and establish child-friendly spaces that ensure children continue to learn while out of school. Its response will also include supporting farmers with agricultural inputs, like fertilizers, to help them rebuild their businesses, cash transfers to repair water sources and houses, as well as additional support for infrastructure repairs to roads and marketplaces.
Cyclone Roanu affected multiple districts including Chittagong, Cox's Bazar, Chandpur, Naokhali, Feni, Lakshmipur, Bagerhat, Khulna, Barisal, Patuakhali, Pirojpur, Bhola, Barguna and Jhalokati – all areas where BRAC works with local communities. BRAC has been on the ground every day since the cyclone hit, providing services to meet the basic needs of families.
ABOUT BRAC
BRAC, a development organization founded in Bangladesh in 1972, is a global leader in creating opportunities at scale as a means to end poverty. With more than 115,000 employees, it is the world's largest non-governmental organization, touching the lives of an estimated 138 million people in 12 countries using a wide array of antipoverty tools such as microfinance, education, healthcare, legal rights training and more. Learn more at BRAC.net.
ABOUT BRAC USA
BRAC USA is an independent, US-based affiliate of BRAC formed in 2006 to advance and support BRAC's global mission to create opportunities to unleash human potential and end poverty. Learn more at BRACusa.org.