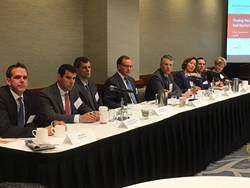 "We're seven years into a bull market. Earnings are challenged."
Alexandria, VA (PRWEB) May 27, 2016
In a press conference held on May 25, 2016, top mutual fund managers addressed more than two-dozen journalists from key financial industry and popular news organizations. SunStar Strategic, a Washington DC area public relations and marketing firm hosted the event in New York City.
Speakers were invited to participate based on their funds' ratings by Morningstar, an investment research and investment management firm. These advisors have shown their ability to successfully navigate the volatile markets of the recent past.
Presenting were executives and portfolio managers from fund advisors: Brian Milligan, CFA, Schwartz Investment Counsel, Janet M. Brown, FundX, Eric Marshall, CFA, Hodges Capital Management, Robert D. McIver, Jensen Investment Management, Andrew R. Adams, CFA, CIC, Mairs & Power, Benjamin A. Richer, Nationwide and Eric Lynch, Scharf Investments.
Among those who attended the morning breakfast conference were representatives from Forbes, Barron's, the Wall Street Journal, Investment News and USA Today.
Overall the advisors shared a commitment to continued investing in the broad equity market within the context of careful selection of companies where they have strong conviction buoyed by unquestionable risk management techniques.
Each manager provided insight into their firm's outlook for the investing landscape in their written remarks, most noting that the foreseeable future for investors will be challenging.
Brown noted that the controversy surrounding the coming presidential election may be emotional "as it seems most people hate the person they are voting against more than they love the person they are voting for. Ultimately, the outcome is unlikely to have much impact on the markets, but when investors get emotional, anything can happen in the short term."
Marshall believes stocks could be stuck in a frustrating and volatile trading range over the near term. "We are finding no shortage of naysayers that are reacting to fears over a prolonged global recession and uncertainty surrounding political upheaval around the world."
Lynch suggests that investors "Tread lightly. We're seven years into a bull market. Earnings are challenged."
Milligan stated that "We are finding the best value in industrials because they have been out of favor."
In his remarks Adams commented that "as long as the domestic economy continues to lead the global economy, we believe small cap stocks should be well-positioned to perform."
Richer feels that "the Fed is likely to tighten two to three times this year depending upon core inflation, weakness abroad, and financial market stability."
According to McIver, "today investors appear to be reassessing a desire for capital appreciation with the need for capital preservation."
SunStar Strategic's media events provide its clients the opportunity to address large groups of online and print reporters in a single setting with the added advantage of give and take among the presenters and audience.
"These kinds of events are highly efficient for both our clients and journalists. The time immediately before and after the event is as critical as the presentations themselves," said Kathryn Morrison, president and CEO of SunStar Strategic. "In our experience of more than two decades, we've seen the seeds planted for many stories. Some are immediate, but many are the result of the opportunity these events are designed to create – the right environment to initiate or nurture professional relationships with the press."
SunStar Strategic arranges media events for individual companies as well as groups of firms within an industry. The firm's public relations practice is grounded in helping each client better identify and consistently articulate its unique value proposition, offering message development workshops, interview training, coaching and ongoing public relations work. The firm's creative services group supports clients with traditional collateral and new media.
For more information, visit http://www.sunstarstrategic.com.