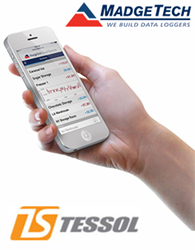 (PRWEB) May 27, 2016
With more than a decade of experience, Tessol is a trusted provider of innovative monitoring solutions, making them the premier distributor of MadgeTech in South Korea. Among the products available are MadgeTech's state-of-the-art wireless 2000A data logger series, which have become the new standard for environmental profiling to ensure quality, safety and efficiency in dozens of industries.
Designed for use with any MadgeTech wireless data logger is the newly released RFC1000 Cloud Relay. This compact data logging hub transmits real-time data from wireless data loggers directly to the MadgeTech Cloud using a built in Ethernet connection. There is no need to turn the computer on, users can view or download data remotely on any smartphone, tablet or internet enabled device. This system offers ultimate flexibility and is easily scalable to accommodate businesses with hundreds of data loggers in multiple locations.
To give clients peace of mind, the MadgeTech Cloud platform allows users to program alarms, so the moment a threshold is exceeded a notification is sent via email or text message. MadgeTech Cloud data is accessible and can be downloaded from any internet enabled device, and there are no limits or data storage concerns. To sign up today for a free MadgeTech Cloud account to be used with any MadgeTech wireless data loggers, click here.
Tessol also specializes in the rugged HiTemp140 data logger series, a popular choice for high temperature monitoring, and an industry favorite for validating autoclaves and steam sterilization cycles. The series includes a wide selection of probe lengths and styles, including dual probe models or M12 connectivity with interchangeable probes for application flexibility.
Together, Tessol and MadgeTech have been providing accurate and reliable monitoring solutions to companies across South Korea for nearly 10 years. As the partnership continues, so does the drive to offer clients the latest cutting-edge products, world class support and simplified, reliable solutions.
To learn about the entire line of MadgeTech products available in South Korea, contact Tessol directly.