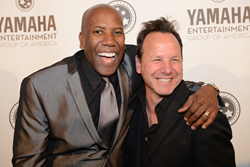 "I'm excited to be returning to the studio to record my second solo album with longtime friend and collaborator/producer Chris Gero," said Nathan East. "Look for new music coming soon!"
NASHVILLE (PRWEB) May 27, 2016
Master bassist Nathan East today announced that he will release his second solo album on the Yamaha Entertainment Group of America label.
Picking up from his hugely-successful self-titled 2014 debut solo album, also released on the label, the new project will hone in on a contemporary jazz feel this time around. East and Yamaha Entertainment Group of America founder and vice president Chris Gero, who will produce the album, are already planning substantive arrangements with a host of guest artists from the bassist's past. The full album is due out this fall, with a single set to be released midsummer.
"Nathan East is the most famous person you don't know you already know," said Gero, alluding to more than 2,000 recordings on which the bassist has left his magic.
East got his first break at the young age of 16 when he found himself on the road with none other than Barry White. Since then, the legendary bassist has traveled the world, playing on tours and recording with world-renowned artists, including Eric Clapton, George Harrison, Michael Jackson, Phil Collins, Whitney Houston, Beyoncé, Barbara Streisand, Stevie Wonder, Daft Punk and more. East is also a founding member of the chart-topping contemporary jazz group Fourplay, which celebrates its 25th anniversary this year.
East's self-titled solo album Nathan East debuted at the top of Billboard's jazz charts and spent an unprecedented 36 weeks at the top of the SmoothJazz.com "Top 50" chart. The album consists of collaborations with some of East's dearest friends, with whom he has played over the years, including Eric Clapton, Stevie Wonder, Michael McDonald, Sara Bareilles, Ray Parker Jr., Bob James and Chuck Loeb of Fourplay and David Paich of Toto. "Nathan East" went on to receive a Grammy nomination for "Best Contemporary Instrumental Album."
Most recently, East collaborated with fellow Fourplay member and esteemed jazz pianist Bob James on a duo album titled, "The New Cool." The album is a mix of carefully curated piano and bass duets, with a few handpicked classics. Debuting at No. 2 on Billboard's Current Contemporary Jazz Chart, the album received praise from many, as well as a Grammy nomination for the track "Ghost of a Chance."
"I'm excited to be returning to the studio to record my second solo album with longtime friend and collaborator/producer Chris Gero," said East. "Look for new music coming soon!"
-END-
ABOUT YAMAHA ENTERTAINMENT GROUP: 
Yamaha Entertainment Group of America is a boutique, one-stop shop, record label developed to be the champion of the musician with the backing power of the largest music manufacturer in the world. Yamaha Entertainment Group is branding, promotion, concert production, content development, product placement, tour support, piano logistics and artist relations, all rolled into one. Home to more than 3,600 talented artists, Yamaha Entertainment Group is responsible for the development and advancement of the Yamaha brand name through numerous artist related activities worldwide. Follow Yamaha Entertainment Group on Facebook, Twitter and Instagram.