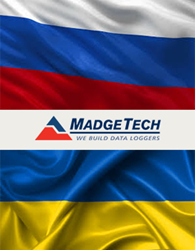 (PRWEB) May 27, 2016
With a team of certified experts, Validation Center is a trusted name in the pharmaceutical, medical and food industries. Aside from its GMP accreditation, Validation Center is also a registered authority of the international system of certification (SIC), providing proof of successfully certified products, services and staff.
Validation Center is ISO17025 accredited and only offers its clients the latest technology, with MadgeTech as its only provider for state-of-the-art data loggers. MadgeTech has an exclusive line of data loggers to monitor a variety of sterilization methods, providing accurate and reliable records for validation compliance reporting.
An industry favorite for validating autoclaves and monitoring steam sterilization cycles is MadgeTech's HiTemp140 data logger series. The rugged, stainless steel device is built to withstand temperatures up to 140 °C (284 °F), and offers a multitude of probe lengths and styles to accommodate a wide range of applications.
For medical and pharmaceutical agencies that must satisfy the strictest regulation guidelines, the MadgeTech 4 Secure Software is also available. The software package contains the criteria needed to ensure electronic files are considered equivalent to paper records, with IQ/OQ/PQ protocols included.
MadgeTech is proud to partner with Validation Center whose dedication to its clients goes above and beyond expectations. As technology continues to evolve, MadgeTech will work closely with Validation Center to provide quality, cutting-edge data logging solutions.
To learn about the entire line of MadgeTech products available in Russia and Ukraine, contact Validation Center directly.