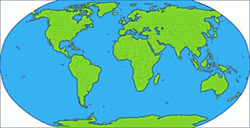 This ability to cater specifically to the client's needs provides the detailed insight our clients demand.
San Jose, CA (PRWEB) May 27, 2016
San Jose based Jancyn, a leader in the mystery shopping industry for more than 35 years, has announced that they are now engaged in an international partnership based in the United Kingdom and throughout the world. The programs that were most recently developed involved mystery shops for international products that are currently being sold in the United States.
According to Vicki Dempsey, Vice President of Sales and Marketing at Jancyn, "We have long had clients with our neighbor to the north, Canada. Based upon this ongoing success, as well as serving all 50 states, we are now working with new partners and clients abroad. We have developed processes that allow these clients to gauge the customer experience at their locations here in the United States. And as partnerships go, Jancyn can now offer our US based clients full worldwide mystery shop coverage for their international branches and franchises."
Having an international partnership allows clients abroad to receive feedback on their products that are marketed in the US. This is particularly important when offering a new product line or merchandise that does not currently have a stronghold in the American market. Having a view of what Americans think of these products and services, and providing that very specific insight, is key to the overall marketing plan of these international partners.
Ms. Dempsey goes on to say, "Flexibility is important in all we do. We work closely with these clients in order to use their specific platform for reporting. This ability to cater specifically to the client's needs provides the detailed insight our clients demand. We call it Jancyn's 'Insight from the Outside' and is even more useful to a business' operational objectives in a global economy."
According to the Mystery Shopper Providers Association, http://www.MSPA.com, mystery shopping has been utilized by businesses dating back to the 1940s when national retailers began to have stronghold on the US economy. The information gleaned from mystery shop impartial reporting allows all types of business to monitor customer service, review training goals, test the reception of new products and services, and ensure compliance with various government guidelines (for example, adherence to Fair Housing laws).
Jancyn is a member of the MSPA. Participation in this industry oversight group means that Jancyn meets or exceeds the high level of standard for mystery shopping companies. In business for more than 35 years, Jancyn has a sustained track record of quality service to their clients…far and wide.