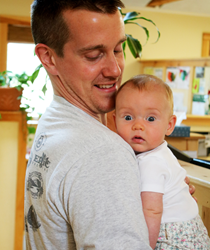 Even small steps, like providing flexible scheduling, can cost a company very little while making a big difference in employees' lives.
Gilsum, New Hampshire (PRWEB) May 27, 2016
W.S. Badger Co. Inc., the maker of certified organic and truly natural skin care products, announced today that it has been recognized as one of the best small businesses for new dads by Fatherly, the digital lifestyle guide for men entering parenthood. Badger was named as one of nine small businesses providing progressive benefits to new parents on the organization's 2016 Best Places to Work for New Dads Report.
"At Badger, we believe it takes a village to raise a family. So the benefits we offer parents are designed to support evolving families and key to creating a truly family-friendly culture," says Katie Schwerin, COO and Co-owner at Badger. "Our hope is that more businesses adopt family-friendly practices that benefit parents and children. Even small steps, like providing flexible scheduling, can cost a company very little while making a big difference in employees' lives."
Badger was recognized for unique employee benefits such as free organic lunch, Babies at Work, company childcare, and extended and paid extended parental leave. Many of these benefits are the result of employee feedback and suggestions.
To compile the list, Fatherly examined parental leave policies and flexible work practices at large companies (> 1,000 employees) and small businesses (<250 employees) supporting new dads. Fatherly worked with HR departments from leading companies who answered questions around parental leave and leading academic and advocacy organizations working on parental leave to field examples. The report focuses on a few key areas, including paid leave for new fathers, corporate flextime policies and their adoption across the workforce, corporate childcare policies, and additional company benefits that explicitly add to family wellbeing and overall work/life balance.
"Public attitudes about the equal sharing of parenting responsibilities have evolved, and fathers have become actively engaged in childcare," said Simon Isaacs, Co-Founder of Fatherly. "This honor is a testament to their commitment to working dads and families, and we commend all of the employers across the country whose parental leave practices and strategies have adapted to the evolving dynamics of parenting roles."
The second annual Best Places to Work for New Dads list saw a massive increase in new commitments for working dads. In comparison to 2015, the average number of weeks in the top 50 companies almost doubled from 4 to 2015 to 7.5 in 2016. This is the inaugural year of the Small Business portion of the list, reflecting that the vast majority (99.7%) of U.S. businesses are small businesses (under 500 people) and 89.6% of all U.S. businesses have fewer than 20 people.
To view the full list, visit http://www.fatherly.com/
###
ABOUT W.S. BADGER COMPANY:
W.S. Badger Co, Inc. is a family run and family-friendly company that has been making products for a healthy planet since 1995. Badger was born when Badger Bill, a carpenter at the time, created a recipe of natural ingredients strong enough to soothe his rough, dry cracked hands. Now a team of over 70 employees, Badger produces almost all of its products in Gilsum, N.H. Inherent in Badger's DNA is its status as a B Corporation, a certification earned through B Lab, a third party nonprofit that requires companies to meet rigorous standards of transparency as well as environmental and social performance. Badger has been a certified B Corp since 2011 and in 2015 became one of New Hampshire's first businesses to register legally as a Benefit Corporation, a for-profit status that incorporates the pursuit of positive environmental and social impact in addition to profit.
For more information: 603.283.5220 | deef(at)badgerbalm(dot)com | badgerbalm.com
ABOUT FATHERLY:
Fatherly is a digital lifestyle guide for men entering parenthood. With unique tools that assist new fathers and provide highly technical age and stage information that will provide accurate and factual information about a child's development, the platform offers thoughtful, informative content along the parenting lifecycle.
For additional information: 212.691.2800 | Fatherly(at)sunshinesachs(dot)com