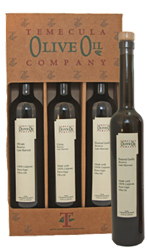 Temecula Valley, CA (PRWEB) May 30, 2016
Temecula Valley is in the spotlight for its award-winning wines, but behind the scenes, culinary artisans are creating products that are gaining attention from visitors and foodies across the globe. Restaurants use these products as key ingredients to enhance their creations. The public is sometimes found visiting the destination just to buy more of a product they can't get enough of; loyal customers even have them shipped to their homes.
These foodie products are the famous Temecula Olive Oil, the highly sought-after Mama Rosa's Marinara Sauce, and the exotic Nimble Nectar craft beverage mixers. Each is made, sold and consumed in Temecula Valley.
Temecula Olive Oil harvests their olives twice a year and presses them at its ranch just outside of Temecula. When blending their oils, they press local, fresh herbs and fruits right in with the olives. The oil is bottled in Temecula and sold at their original store in Old Town Temecula, as well as their other locations in Solana Beach, Seal Beach and San Diego. Many Temecula chefs use Temecula Olive Oils and house-made vinegars (the company grows the grapes for their balsamic vinegars) to complement their dishes. Why is their oil so popular that people are having it shipped as far away as China, Japan and the United Kingdom? It's the purity, the freshness and the smooth taste that people find so addictive. It's no wonder, since the grower and co-owner, Thom Curry, is certified by the International Olive Oil Council as a Master Taster and sits on the California Olive Oil Council's Taste Panel. His strict standards and passionate commitment assure each batch is the very best possible. Temecula Olive Oil products are available at any of their Southern California stores or online at TemeculaOliveOil.com.
Mama Rosa's Marinara Sauce is made from Temecula Valley winery owner Robert Renzoni's grandmother's recipe. After she passed away in 1994, he took over making the sauce for family and friends and began offering it in his tasting room in 2007. The demand grew as word spread about this fresh, authentic sauce. Renzoni estimates they've sold 100,000 jars to date. Not only do fans of the sauce use it for traditional Italian dishes, they enjoy it in Bloody Marys and soups. This healthy sauce is gluten-free and contains no preservatives or GMO ingredients. What's in the jar? Nothing but plum tomatoes, olive oil, sugar, shallots, garlic, salt, anchovies, basil, spices and a whole lot of Mama Rosa's love that made family gatherings so memorable. It is available for purchase at Robert Renzoni Winery or online at RobertRenzoniWinery.com for $12.95 a jar.
Nimble Nectar is being introduced to the consumer through Southern California restaurants and wine and spirits shops. In business for less than a year, their natural, small batch craft mixers are quickly growing in popularity. After spending the past 10 years in Europe, owners Jason Joe and his wife, Julie, decided to return to their Temecula roots where there is a strong community of local craft distillers, wineries and breweries. A former banker, Jason learned there was a need for craft mixers made with quality ingredients and fresh flavors. Places like Galway Downs in Temecula, are using it in their bar and KenTina restaurant, and at special events and weddings. One of their flavors, California Lime, "salutes our home town of Temecula. The zesty vibrancy you'll find in the bottle mirrors the dynamic optimism of Temecula and its must-see wineries, craft distilleries, and craft breweries." A list of their exotic, natural flavors and distribution locations can be found at NimbleNectar.com.
Ready to take a bite out of Temecula Valley and its unique culinary delights? The historic Old Town foodie district, burgeoning wine country with more than 40 wineries and Pechanga Resort & Casino and its eleven distinct onsite restaurants should rank high on your list of sites to see…and sip and sample. But visitors are discovering it's a three-day stay filled with wine tasting, pampering, outdoor activities and field-to-fork dining. A Sunday through Thursday stay is highly recommended for a quality, laid-back luxury experience that may provide conversations with shopkeepers and winery owners, and fewer crowds. Visit http://www.VisitTemeculaValley.com to plan a Temecula Valley Southern California getaway.
ABOUT THE TEMECULA VALLEY AND VISIT TEMECULA VALLEY
With natural gifts of climate and geography, Temecula Valley is widely recognized for its scenic vineyards, award-winning wines, and friendly wineries as Temecula Valley Southern California Wine Country. The destination includes the Temecula Valley A.V.A. (American Viticulture Area) as well as Downtown, Old Town Temecula, and Pechanga Resort & Casino.
Visit Temecula Valley is online at VisitTemeculaValley.com; "Temecula Valley Southern California Wine Country" on Facebook and @Visit_Temecula on Twitter. The Temecula Valley Visitors Center is located in Old Town Temecula on Mercedes Street adjacent the Old Town Parking Garage. For visitor assistance, call 888/363-2852 or 951/491-6085.