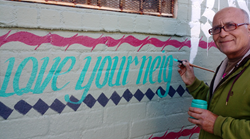 Los Angeles, CA (PRWEB) May 28, 2016
Pico Union Project, Craig Taubman's multi-faith, multi-cultural arts non-profit located at 1153 Valencia Street in the Pico Union neighborhood of Los Angeles, recently launched a pilot wellness program for Pico Union residents. The program, called Vida Sana, takes a multi-pronged approach to wellness by offering free bilingual nutrition education classes taught by Seeds of Hope, dance led by local resident Elvia Starr, and art workshops in the form of a mural project located on Valencia and 12th streets.
Seeds of Hope, the food justice ministry of the Episcopal Diocese of Los Angeles, is an organization that seeks to provide equal and affordable access to nutritious food for everyone in our communities. They work with congregations, communities, schools, and non-profit partners to transform unused or under-utilized land into productive gardens and orchards that can help provide fresh produce for those in need. Thanks to a Nutrition Education Obesity Prevention grant, Seeds of Hope offers healthy cooking and nutrition classes that help participants see that small changes can lead to big health benefits.
At Pico Union Project, Seeds of Hope has worked alongside the community to build innovative mobile garden beds that are full of beautiful tomatoes, peppers, and summer fruits - produce that can easily be used in some of the healthy, delicious recipes enjoyed by Pico Union families at weekly nutrition classes at Vida Sana.
"We had a blast planting with the younger kids at Vida Sana's kick-off event. We taught them how to 'butcher' a tomato plant to ensure successful rooting so that it grows delicious tomatoes," said Erica Nieves, Assistant Program Coordinator of Seeds of Hope.
"We also had the youth cook a healthy lentil soup to serve those who attended the event. It's all about letting them do the work and not restricting them from doing any task. They feel empowered and proud of the outcome."
The Vida Sana Mural Project features words painted in different calligraphic styles and chosen by participants that reflect their concept of community and the Pico Union neighborhood. Words such as "art", "power", "Corazon", "explore", "destiny" and "esperanza" have been painted on the wall at Valencia Street. Pico Union has historically and continues to be an immigrant neighborhood and its diversity is reflected in the languages these words are written in: Farsi, Hebrew, Spanish, English and Korean.
Local artists Peter Greco, a professor at Art Center College and Design in Pasadena, and Derrick Hensman are teaching students how to write in calligraphy, giving neighborhood kids a new skill set and appreciation for typography. Lettering as an art form resonates with many Pico Union youth who aim to elevate graffiti from public nuisance to legitimate artistic expression.
"Often times, health programs focus solely on diet or exercise. We decided to take a different approach that is more in line with our mission. Art is an essential part of individual and community wellness because it calms the mind, heals the heart and transcends language barriers. It is a way for everyone in the area, regardless of age or faith, to connect as a community and create something representative of who they are; something to be proud of," said Natasha Adams-Young, coordinator of the Vida Sana program at Pico Union Project.
Vida Sana takes place on Wednesdays from 4:30pm-6:00pm at Pico Union Project (1153 Valencia Street, Los Angeles CA 90015). All are welcome to come participate. For more information, email Pico Union Project at info(at)craignco.com or visit our website at picounionproject.org