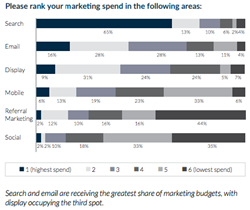 While the industry benchmark of etailers investing heavily in social is at ~14%, we are seeing all of Wpromote's retailers investing at a rate 60% higher than the norm
(PRWEB) June 01, 2016
In May of 2016, Wpromote, the nation's leading digital marketing agency, joined with research firm WBR Digital and several other research partners to release a new eTail report of exclusive and never before seen findings. This research report, titled The Mid-Year E-Commerce Outlook, was the culmination of two months of exhaustive surveys and interviews. Wpromote and its co-sponsors canvased the digital marketing industry to identify growing digital marketing trends and predict where the industry would go next, as well as determine what savvy digital marketers would need to do in order to keep up.
The surveys and interviews used in the report concerned marketing trends from throughout 2015 and identified new, emerging trends from early 2016. These included asking such questions as whether or not KPIs had changed over time, which online activities primarily drove customer acquisition and retention, and which challenges were most pressing for businesses to solve in 2016. To the marketers surveyed, most important of these was measuring online's impact on offline sales.
"While the industry benchmark of etailers investing heavily in social is at ~14%, we are seeing all of Wpromote's retailers investing at a rate 60% higher than the norm," said Michael Stone, Wpromote's Chief Relationships Officer. "This represents a rapidly moving trend in the E-Commerce category of our clients recognizing and harnessing the power of well-run paid social campaigns."
Statistics and data in the report are the result of new and unique surveys conducted on the behalf of the eTail team. The data in this report cover a wide variety of industries, such as beauty, home goods, apparel, consumer electronics, and books. One notable statistic given was that 35% of marketers are familiar with referral marketing but haven't tried it, despite the high success rate of this tactic. The report will be made available for free download by Wpromote, and can be found here.
Research in the report detailed several major findings: the continued prominence of search and email in digital marketing efforts, the optimization of "omnichannel" efforts in the utilization of all available sales channels on behalf of E-Commerce retailers, and the rising prominence of user-generated content in brand awareness campaigns.
The report was the result of collaboration between Wpromote, Olapic, and Extole, as well as WBR Digital. The report covered mid-year trends only for E-Commerce, retail organizations with annual revenues from $100 million to $500 million.
Wpromote has made free downloads of the report available here.
About Wpromote
Founded in 2001 by Michael Mothner, Wpromote is an award-winning online marketing firm headquartered in El Segundo, California with nearly 200 employees and expanding rapidly. Named one of the Best Places to Work in the US by Ad Age two years running, Wpromote has helped hundreds of clients from startups to Fortune 500 companies grow their businesses online with end-to-end digital solutions. Through integrated search, mobile, and social marketing, the firm has propelled Toyota, Bayer HealthCare, Verizon, Sungard, Z Gallerie, Wienerschnitzel, Shutterstock, J.D. Power, TUMI, and Billabong into dominating the online Commerce space. With unmatched experience in multi-channel, content-centric campaigns and unrivaled dedication to clients' results, Wpromote helps companies big and small act and move like large enterprises. For more information, visit http://www.Wpromote.com.