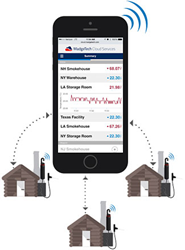 Warner, NH (PRWEB) May 30, 2016
The new RFC1000 Cloud Relay easily receives data from any MadgeTech wireless data logger; simply plug in the Ethernet cable for Internet access. Simplifying tedious monitoring tasks for companies of all sizes, each RFC1000 Cloud Relay can transmit data from up to 64 wireless data loggers simultaneously directly to the MadgeTech Cloud. The cloud interface allows users to view and manage multiple cloud relays regardless of location. That means users can keep an eye on what's cooking in multiple smokehouses or ovens in different facilities, at any time, from anywhere around the world, right in the palm of their hand!
Additionally, the RFC1000 Cloud Relay also allows users to configure alerts and notifications. This is a life saver in heading off cooking or cooling mishaps that could potentially result in product loss. Users can determine the critical thresholds and cooling flags for each logger individually and will receive text messages or email alerts the moment safe levels are exceeded.
With no software fees, limits or data storage concerns, the MadgeTech Cloud and wireless monitoring systems are affordable and easy to set up. From a single logger application to a dozen locations with hundreds of loggers, the MadgeTech Cloud Services platform is scalable to the needs of the user.
Sign up today for a MadgeTech Cloud account to be used with any MadgeTech wireless data loggers!
For more information on the RFC1000 Cloud Relay or MadgeTech Cloud Services, contact a technical sales representative.