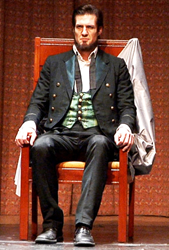 Lincoln opera LIVE! on the parade grounds - Fort Baker in Sausalito Sun July 3. Roberta Wain-Becker
Sausalito, California (PRWEB) June 04, 2016
National Endowment for the Arts Chairman Jane Chu has approved more than $82 million to fund local arts projects and partnerships in the NEA's second major funding announcement for fiscal year 2016. Included in this announcement is an Art Works award of $10,000 to Marin County's Golden Gate Opera to support the July 3, 2016 performance of a new historical Civil War opera, "Lincoln - The African-American Connection" - an "Imagine Your Park"s project.
The opera is the story of Lincoln's days from the time he entered the White House to the end of the Civil War. The Art Works category supports the creation of work and presentation of both new and existing work, lifelong learning in the arts, and public engagement with the arts through 13 arts disciplines or fields. "The arts are all around us, enhancing our lives in ways both subtle and obvious, expected and unexpected," said NEA Chairman Jane Chu.
Golden Gate Opera General Director Roberta Wain-Becker said, "We are honored to be recognized by the NEA for the work we are embarking on to create cultural bridges with new works that engage diverse members of our Bay Area communities. We are excited to work with our partners, The National Endowment for the Arts and the National Park Service, to bring this imaginative new work to the public with a double Celebration of the 100th Anniversary of the National Park Service and the 50th Anniversary of the NEA."
The grant will support "Lincoln - The African-American Connection" performance Sunday July 3, 2016 - a new one-act by composer John Cepelak and librettist Christina Rose, with related outreach activities. Dr. Brian Asher Alhadeff is conductor and stage director is Edna Garabedian. The cast features, baritone Gabriel Manro as Abraham Lincoln, soprano Krista Wigle as Mary Todd Lincoln, mezzo-soprano Lori Willis as Elizabeth Keckley, baritone Michael Orlinski as Sam Everyman, Noah Griffin as Frederick Douglass and narrator joined by members of the Lighthouse Singers Gospel Choir.
Said Wain-Becker: "I am excited for opera fans to come enjoy the beauty of the Golden Gate Park National Conservancy at Fort Baker, and for fans of our National Parks to discover live opera outdoors right on the Parade Grounds of Fort Baker. An audience of veterans, families, opera fans and tourists will gain access to an original opera about an earlier time in U.S. Military History - The U.S. Civil War.
The 2:30 pm performance will be preceded by a 1 pm wheel-chair accessible guided walking-tour of the historical preserved military buildings at Fort Baker led by Park Ranger Al Blank. A signer will be provided so that the hearing impaired can enjoy the English words, and a large print version of the program will be available for visually impaired.
Additional advance community activities include lectures, a reading, "virtual workshops" using social media to elicit feedback and interactive discussions, outreach to youth and veterans and web site tools for accessibility. To join the Twitter conversation about this announcement, please use #NEASpring16. For more information on projects included in the NEA grant announcement, go to arts.gov