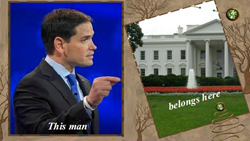 "I am at a loss for words....which never happens! What you put together is beautiful!"---Vicky T.
Vermilion, Ohio (PRWEB) May 30, 2016
On Friday, May 27th, 2016, "Help Marco Win", a grassroots blog founded by Katie Baker and dedicated to supporting Marco Rubio, began a weekend-long celebration of Senator and former 2016 presidential candidate Marco Rubio's 45th birthday. Throughout Senator Rubio's campaign, millions of people were touched by his message of optimism, self-giving, and patriotism. When the candidate suspended his campaign on March 15th, after a heartbreaking defeat in Florida, supporters of the candidate felt a desire to give back in some way. "Help Marco Win" began planning a social media celebration to meet the need.
Since Marco's 45th birthday was May 28th, the Saturday before Memorial Day, it seemed fitting that the celebration would be held on Memorial Day Weekend. The event, which featured messages of thanksgiving and birthday wishes set to inspirational music, memories of humorous moments from the candidate's campaign, testimonials, birthday cards, and more, all gathered together in a moving tribute to Senator Rubio. The presentation was created and hosted by Katie Baker of "Help Marco Win". During the weekend-long event, recent and long-time supporters of Marco, gathered together in what was a very touching, emotional weekend.
It was an exciting moment when members of Marco's grassroots supporters finally had a chance to give Marco gratitude through testimonials, cards etc. Many people cried tears of joy while others "were at a loss for words" over the experience. After a successful weekend, which will continue until the end of Memorial Day, "Help Marco Win" decided to open up the celebration to the general public and will extend the celebration until Friday, June 3rd, at 10:00 P.M. EST.
Supporters located all over the country as well as other countries gathered virtually on Ms. Baker's blog, located at http://www.helpmarcowin.wordpress.com, as well as on a special Facebook event page designed for people to submit their birthday wishes, pictures, videos, cards etc. Along with Facebook and the "Help Marco Win" blog, supporters tweeted birthday wishes all over twitter starting at 8 A.M.- 8 P.M. Marco is not guaranteed to attend the event but is aware of the support and love of the American people and is grateful.
It's time to repay Marco back for the sacrifice that was given over the last year. To participate in this special tribute to Senator Rubio, a man who has touched millions of people with genuine love, visit "Help Marco Win" at http://www.helpmarcowin.wordpress.com for all of the details.
*Disclaimer* "Help Marco Win" blog is not affiliated with Marco Rubio's presidential campaign, but is a grassroots movement designed to show support for Senator Rubio. The owner of the "Help Marco Win" blog is not responsible for the success of Senator Rubio's presidential campaign or the views expressed by the general public on the Facebook event page.
Contact: Katie Baker
Email: maba28(at)yahoo(dot)com
Use "hmw media inquiries" in the subject line
Website: http://www.helpmarcowin.wordpress.com