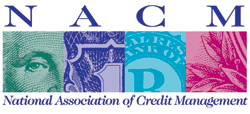 "Those seeking credit are seeking quite a bit of it. That suggests the larger companies are the ones looking for more credit."
Columbia, MD (PRWEB) May 31, 2016
News from NACM's Credit Managers' Index (CMI) continues to be solid heading into mid-year; now other key economic indicators are finally starting to mirror the predictive monthly index.
The 53.8 CMI reading in May is not as strong as in the past two months, including April's calendar year high of 54.6, but the combined index remains comfortably above the line between expansion and contraction (50). Although there are concerns in some quarters that the 2016 growth trend may have peaked this spring and that several CMI categories eased from impressive April performances, one "ray of sunshine" in the CMI is the strong performance of the amount of credit extended category, said NACM Economist Chris Kuehl, Ph.D.
"Those seeking credit are seeking quite a bit of it," he noted. "That suggests the larger companies are the ones looking for more credit."
Improvements in the combined unfavorable categories factors have been harder to obtain. However, the numbers have at least steadied for the most part, and May actually marked only the third month in more than a year when the unfavorables have reached at least 51.
"It was only a few months ago that readings were consistently in the 40s," he recalled.
CMI data is often more predictive than other economic indicators (e.g., durable goods orders, the Purchasing Managers' Index, retail sales and employment) in part because the credit management function is fundamentally forward looking, Kuehl said. As such, there have been some signs of life in these other data points, signals CMI analysis projected as early as the first of the year.
For a full breakdown of the manufacturing and service sector data and graphics, view the complete May 2016 report at http://web.nacm.org/CMI/PDF/CMIcurrent.pdf. CMI archives may also be viewed on NACM's website at http://www.nacm.org/cmi/cmi-archive.html.
ABOUT THE NATIONAL ASSOCIATION OF CREDIT MANAGEMENT
NACM, headquartered in Columbia, MD, supports more than 15,000 business credit and financial professionals worldwide with premier industry services, tools and information. NACM and its network of affiliated associations are the leading resource for credit and financial management information, education, products and services designed to improve the management of business credit and accounts receivable. NACM's collective voice has influenced federal legislative policy results concerning commercial business and trade credit to our nation's policy makers for more than 100 years, and continues to play an active part in legislative issues pertaining to business credit and corporate bankruptcy. NACM's annual Credit Congress & Exposition conference is the largest gathering of credit professionals in the world.