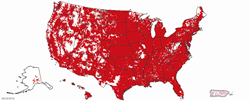 "LTE provides the platform on which future products, like streaming video from your gate, will be built." Noel Gouldin, President of CellGate
Dallas, Texas (PRWEB) May 31, 2016
Beginning in May, cellular gate security products company, CellGate, can now offer LTE-network cellular service as an option for customers interested in purchasing one of CellGate's access control products or cellular HD cameras. Noel Gouldin, President of CellGate, said the addition of LTE-network compatible hardware and cellular service to his company's product and service portfolio is a competitive advantage because most access control competitors only make their products compatible with one cellular carrier's technology. CellGate adds the LTE-network cellular service option through Verizon to their existing 3G-network cellular service option, which is through AT&T Wireless.
"Being able to offer LTE-network cellular service with our products has a number of advantages," says Gouldin. "Coverage footprint, increased speed with LTE technology, and greater bandwidth in certain geographic areas means CellGate products can now work in a number of areas that it could not before. That means more potential market penetration for CellGate, so we are very excited about the new opportunities this will bring. In addition, LTE provides the platform on which future products, like streaming video from your gate, will be built."
According to Gouldin, adding LTE-network cellular coverage means CellGate can offer better overall cellular coverage in many areas---especially in the southeastern part of the United States---compared to what they previously offered with their 3G-network technology offering. This means that CellGate products can work in more parts of Tennessee, Alabama, Georgia and the Carolinas than before. In addition, an LTE network is faster than a 3G network, which will be especially appealing to prospects who wish to use CellGate's cellular HD cameras since photo files are typically large and can take slightly longer to send. Lastly, since cellular carriers pick and choose where they install transmitters for their cellular equipment across the country, bandwidth in any one location can vary significantly between two carriers. With CellGate now being able to provide an LTE-network choice in addition to a 3G-network choice, a prospective customer can choose which of the two carriers has better coverage and signal strength in the area(s) where their CellGate equipment will be installed. Gouldin believes that customers will appreciate the fact that they have a choice of cellular carriers when they use CellGate products, and that will increase the number of prospects that will choose CellGate over competitors.
CellGate is distinctive in the cellular access control marketplace in that they provide complete "end-to-end" sales, service and support for their cellular product suite. This means that in addition to designing, selling and supporting their access control hardware, CellGate also supports customers who use their mobile application and cloud-based Account Control Center web portal. Lastly, CellGate provisions and bills the monthly cellular service the customer chooses as well. All of this translates to a customer being able to make one sales or support phone call to CellGate for anything that may be impacting their cellular access control product functionality, and knowing that CellGate can work to resolve it. Gouldin is confident that being a "one-stop-stop" from beginning to end will make CellGate's product line more attractive to prospective customers.
"We decided early on that we wanted all of the pieces of the cellular access control 'puzzle' under one roof in order to provide the best customer experience," says Gouldin. "It allows us to truly control our own destiny in the industry. Now, with the addition of LTE-network compatible hardware, cellular service and footprint to our product offering, we demonstrate why we were not only the first but continue to be the leader in cellular access control products in America."
CellGate provides products and services for remote monitoring over cellular networks. They are the only technology company with a complete suite of cellular-based security products—encompassing smart keypad entry, voice and camera solutions. With their smart phone application and proprietary web-based portal built on Microsoft Azure's cloud service, CellGate offers flexibility found in no other access control or monitoring solution. Visit http://www.cell-gate.com for more information and to view a live demo.