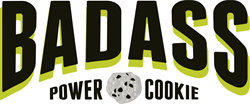 We have experimented with different recipes for over a year and we now feel confident that these new flavors will bring the brand to a whole new level.
Sodus, NY (PRWEB) June 03, 2016
The new flavors, Berry and Chocolate Spice, are an extension of the original oatmeal raisin flavor to deliver the benefits of spirulina, a plant-based protein and antioxidant power house. These are perfect on the go as a healthier snack or meal replacement, pre-work out energy source, or post-work out muscle repair.
The cookie uses whole ingredients to provide energy-bearing benefits and boasts 25% of the daily value of iron.
Badass Power Cookie is vegan, non-GMO, organic, and Kosher. They are made using spirulina, which is nature's perfect plant-based protein source. It is packed with vitamin B-12 for energy, and one serving provides 3x's the protein than beef and key phytochemicals that exceed those found in 4-5 servings of fruit and vegetables.
Badass Power Cookie was made to turn one of America's favorite snacks into fuel for the body instead of empty calories. Being Badass means to make healthy choices and lead a compassionate lifestyle.
About EverYoung Natural Foods
Badass Power Cookies are artisan made and distributed by EverYoung Natural Foods on Lake Ontario in NY. EverYoung was inspired to create superfood enhanced snacks when its founder's wife died from cancer in 2005. In 2013, Badass Power Cookie was born and brought to the public with the help of their spokesman, John 'Bad Ass Vegan' Lewis.
Berry - Isn't your traditional berry blend. Goji berries, golden berries were particularly chosen for there dense nutrition and blueberries for taste. This cookie was inspired by the consumers that weren't a fan of the raisins in our original oatmeal raisin flavor.
Nutrition Facts Serv. Size: (85g), Servings: 1 Amount Per Serving: Calories 360, Fat Cal. 140, Total Fat 14g (22%), Sat. Fat 3.5g (18%) Trans Fat 0g, Cholest. 0mg (0%), Sodium 210mg (9%), Total Carb. 47g (16%), Fiber 5g (18%), Sugars 13g, Protein 11g, Vitamin A (0%), Vitamin C (2%), Calcium 4%), Iron (25%) Vitamin B12 (80%).
INGREDIENTS: Rolled Oats* Unbleached Spelt Flour, Earth Balance ® (expeller pressed non-hydrogenated palm fruit, canola and live oils, water, salt, natural flavor, sunflower lecithin, lactic acid-non dairy, annatto extract), Grape Juice*, Rice Dextrin*, Power Berry Medley™ (blueberries, goji berries*, golden berries*), Evaporated Cane Juice*, Power Protein Blend™ (spirulina, rice, faba bean), Water, Vanilla Extract, Baking Soda, Black Chia Seed Meal*, Sunflower Lecithin, Sea Salt, Apple Fiber*, Citric Acid, Blueberry Extract, Rosemary Antioxidant (rosemary oleoresin*, olive oil*)
*Organic
Chocolate Spice - Cacao, banana and chia plays on a chocolate protein shake and the spice gives it a thermogenic kick.
Nutrition Facts Serv. Size: (85g), Servings: 1 Amount Per Serving: Calories 310, Fat Cal. 120, Total Fat 13g (21%), Sat. Fat 4g (19%), Trans Fat 0g, Cholest. 0mg (0%), Sodium 210mg (9%), Total Carb. 42g (14%), Fiber 5g (20%), Sugars 11g, Protein 9g, Vitamin A 2%, Vitamin C 2%, Calcium 4%, Iron 25%, Vitamin B12 (70%).
INGREDIENTS: Rolled Oats*, Grape Juice*, Rice Dextrin*, Earth Balance ® (expeller pressed non-hydrogenated palm fruit, canola and live oils, water, salt, natural flavor, sunflower lecithin, lactic acid-non dairy, annatto extract), Unbleached Spelt Flour, Dehydrated Bananas*, Evaporated Cane Juice*, Chocolate Chips (sugar, chocolate, cocoa butter, soy lecithin, vanilla), Water, Cacao Powder, Power Protein Blend™ (spirulina, rice, faba bean), Vanilla Extract, Baking Soda, Black Chia Seed Meal*, Direct Trade Coffee*, Sunflower Lecithin, Thermogenic Blend (cinnamon*, black pepper, cayenne), Sea Salt, Raw Stevia Leaf, Apple Fiber*, Citric Acid, Banana Extract.
Organic*