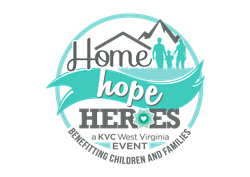 Charleston, WV (PRWEB) June 01, 2016
Members of state agencies, national foundations, and community organizations will come together on June 2 at the West Virginia State Museum and Culture Center in Charleston, West Virginia for an evening of fun, food and friendship at the charity event Home. Hope. Heroes. The event is hosted by KVC West Virginia, a nonprofit child welfare and behavioral healthcare leader, and proceeds will benefit children and families across the state.
KVC West Virginia is the state's largest private provider of foster family support services and also provides in-home behavioral healthcare and adoption. In 2015, the organization was selected to help children through the state's new "Safe At Home West Virginia" program, an initiative of the West Virginia Department of Health and Human Resources Bureau for Children and Families. Its aim is to maximize the benefits of home and community-based services for children in out-of-home care, in conjunction with providing behavioral and mental health services, in order to reduce the use of congregate and out-of-state care. The program has successfully completed the initial development stage, and KVC West Virginia is now one of four organizations selected to expand the program into new areas of the state.
Cabinet Secretary Karen Bowling from the West Virginia Department of Health and Human Resources (DHHR) selected the organizations to participate in the Safe at Home program and will speak at Home. Hope. Heroes. about the importance of providing community-based services so that children can remain in or return to their home state of West Virginia. Sandra Gasca-Gonzalez from the Jim Casey Youth Opportunities Initiative, along with KVC West Virginia President Brent Lemon, will speak about how KVC's work is critical for children and families locally and nationally. Pianist Barbara Nissman will share a personal story about hope and perform two short pieces on the piano. The Dueling Fiddlers will also entertain guests during the cocktail reception.
Lead sponsors for the event include Spilman Thomas & Battle, PLLC; Highland Hospital; Thrasher; WOWK-TV and Brickstreet Insurance. Corporate sponsors are invited to attend a patron party following the event in a private home. See website for a complete list of corporate sponsors.
Individual tickets to the event are $100 and corporate sponsorship opportunities are available. Buy tickets at http://www.kvcwv.org/homehopeheroes.
About KVC West Virginia
KVC West Virginia, headquartered in Charleston, is a private, nonprofit 501(c)3 organization that each year cares for nearly 600 children in foster families, matches dozens of children with adoptive families, and provides nearly 500 clients with in-home behavioral healthcare services such as therapy. The organization works closely with the WV Department for Health and Human Resources and others to develop community-based services for the betterment of children and families. KVC is a state-licensed child placing agency and behavioral healthcare provider with 8 office locations serving 26 counties. KVC West Virginia is a division of KVC Health Systems, a national leader in providing innovative, effective and compassionate care. KVC is accredited by The Joint Commission and endorsed by the Annie E. Casey Foundation was a national best practice organization in child welfare. Learn more at http://www.kvcwv.org.