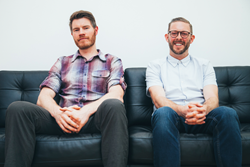 New York, NY (PRWEB) June 01, 2016
International agency 6S Marketing has expanded its team in New York. With rapidly-growing clientele including Pirelli Tires, Criteo, and Cirque du Soleil, the company has launched a media division focused on cutting-edge digital marketing advertising platforms. This division will be led by Ryan Burke and Richard Bergen, who have relocated from the agency's Vancouver office to the 6S Marketing office in SoHo, Manhattan. Both Ryan and Richard have been with 6S Marketing since 2013.
 
Ryan Burke has been promoted to VP, Business Development. The newly-created role comes alongside a great boom in 6S Marketing's business in New York. With ample expertise in digital strategy, Ryan is focused on new business opportunities and partnerships across the eastern seaboard.  
Richard Bergen has been promoted to Media Director, building on his strong background as a Media Planner and Account Manager with 6S. His move to New York signifies an increased role in media planning and integrated digital marketing communications within 6S Marketing's client services, and helps establish 6S as a competitor for increasingly large projects and digital media opportunities in New York.
This new media division is designed to give businesses a trailblazing advantage by focusing on the most emergent digital tactics. Some of the latest technologies include:

Facebook Canvas ads
YouTube Bumper ads
Snapchat Custom Geofilters
Tumblr Advertising
Instagram Video Advertising
Pinterest Advertising 
About 6S Marketing:
6S Marketing is a global digital agency that transforms businesses for the digital age. For over 15 years, the company has been helping clients embrace the digital world and the technological change that is revolutionizing their businesses by connecting data and storytelling to help make brands profitable, shareable, and ultimately more valuable. 6S Marketing provides distribution of advertising creative via such paid campaigns across multiple digital channels such as Facebook, Google, Twitter, YouTube, Tumblr, Instagram, Pinterest, LinkedIn, WeChat, Weibo, and Baidu.
6S is more than a digital agency—they're a trusted partner and collaborator.