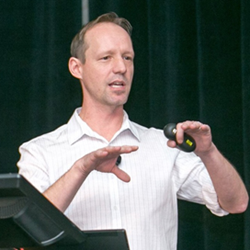 Seattle, WA (PRWEB) June 01, 2016
SharePoint Fest Seattle to have Bill Baer and Chris McNulty deliver the second day keynote on August 18th, 2016 in which they will share innovation insights and guidance for IT to best manage SharePoint everywhere – online, on-premises with specific depth into hybrid. Whether you have your head in the clouds, feet firmly inside the firewall, or span both, Bill and Chris will cover the latest IT updates, scenarios and tons of demo for both seasoned SharePoint IT Pros and new SharePoint "cloud admins."
About Bill Baer
Bill Baer is a Senior Technical Product Manager and Microsoft Certified Master for SharePoint in the SharePoint product group in Redmond, Washington; having previously worked at Hewlett-Packard, Bill Baer has a proven background in infrastructure engineering and enterprise deployments of SharePoint Products and Technologies. While at Hewlett-Packard Bill Baer was awarded the MVP award for his contributions in the Technology Solutions Group, now known as HP Enterprise Business, which encompasses server and storage hardware, technology consulting, and software sales. Bill has deep industry experience having worked for Apple Computer Corporation, First Data Corporation, Digital Equipment Corporation, Compaq Computer Corporation, Hewlett-Packard, and Microsoft Corporation. Connect with Bill at wbaer.net.
About Chris McNulty
Chris McNulty is a Sr. Product Manager for SharePoint and Office 365 at Microsoft. Chris's experience as CTO includes companies as diverse as Dell Software/Quest, and Cryptzone/HiSoftware. He was first recognized as a SharePoint MVP in 2013, and led the SharePoint consulting practice at KMA, a Boston based Microsoft Gold Partner. A frequent speaker at events around the globe, Chris is the author of the "SharePoint 2013 Consultant's Handbook" among other works. He also blogs at http://www.chrismcnulty.net/blog Recently, he was recognized at the Ignite Conference as one of the Top 25 Office 365 Influencers in the community today. Chris holds an MBA from Boston College in Investment Management and has over twenty years' experience in financial services technology with John Hancock, State Street, GMO and Santander.
About SharePoint Fest
SharePoint Fest is in its sixth year. It offers a two-day conference (with an optional two days of workshops) that brings together SharePoint enthusiasts and practitioners, with many of the leading SharePoint experts and solution providers in the country.
Attend SharePoint Fest Seattle where attendees will be able to attend workshops and seminars – taught by Microsoft Certified Trainers, Microsoft engineers, and Microsoft MCM's and MVPs – covering Enterprise Content Management, Implementation/Administration, Business Value, Search, Business Intelligence, Office 365 and SharePoint Development. Attendees will be able to choose one complete learning track or mix and match based on what content best meets their current needs.
At SharePoint Fest Seattle, there will be sessions created for SharePoint administrators, software developers, business analysts, information architects, and knowledge workers, which will ensure that attendees walk away with as much knowledge as they desire to truly leverage SharePoint in their current environment.
Web Site: http://www.sharepointfest.com/Seattle