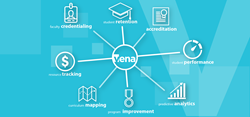 Toronto, ON (PRWEB) June 01, 2016
Vena Solutions, the fastest growing provider of cloud-based corporate performance management (CPM) software, today announced its Exhibitor Sponsorship at CEEA/ACEG 2016, being held June 19–22 at Dalhousie University in Halifax, Nova Scotia. The annual Canadian Engineering Education Association Conference is one of Canada's largest forums for engineering faculty, administrators and researchers to discuss ongoing trends impacting the field of engineering education.
Vena will be showcasing its Outcomes Assessment and Accreditation solution for engineering programs to meet all the Canadian Engineering Accreditation Board (CEAB) data collection and reporting requirements. Universities and colleges also use Vena for program planning, faculty credentialing, student retention and continuous curriculum improvement.
Vena's higher education solutions combine a true Excel interface with enterprise-grade features including workflow, version control, a detailed audit trail and integration with various data source systems. The Vena Outcomes Assessment and Accreditation solution offers features and benefits including:

Rapid and widespread user adoption, as a result of Vena's native Excel interface;
Automation of manual, error-prone spreadsheet processes such as data consolidation;
Streamlined processes (outcomes assessment, student-level insight, etc.) across multiple departments;
Sophisticated but powerful data modeling, analytics and reporting;
Real time management, regulatory and self-serve reporting.
To learn more, please visit us at the CEEA Conference or online at http://venasolutions.com/product/business-solutions/higher-education-solutions/
About CEEA/ACEG 2016 – https://ceea.ca/en/conferences/
The Canadian Engineering Education Association's Annual Conference - CEEA2016 will be hosted by Dalhousie University in Halifax - June 19 - 22, 2016. All areas of engineering education research and practice are invited, more specific information on the conference will be posted as it becomes available. This conference offers a unique venue for academics and practitioners to discuss recent trends in engineering education and education research. The conference includes workshops, plenary sessions and technical sessions.
About Vena Solutions – http://www.venasolutions.com
Vena turns Excel into an enterprise-class business solution with a centralized database, workflow, detailed audit trail and more. With Vena, hundreds of leading global brands now get trusted numbers and insights – fast – without sacrificing the investments they've made in Excel templates, models and reports. Our customers use Vena for corporate performance management (CPM) applications including budgeting, financial close management, reporting, and automating other spreadsheet driven processes across and beyond finance. Vena is the fastest growing cloud CPM vendor, and the only one to embrace – not replace – Excel spreadsheets.