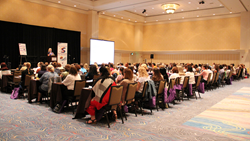 This year's presentations will focus on Evidence Based Practice: Evaluation and Treatment of SPD with speakers who will present the newest research findings and strategies in the field of SPD.
Denver, CO (PRWEB) May 31, 2016
STAR Institute for Sensory Processing Disorder (SPD) announces impactful presentations with world-leading experts at the 19th International 3S Symposium taking place in Seattle, Washington November 4-5, 2016.
This year's presentations will focus on Evidence Based Practice: Evaluation and Treatment of SPD with speakers who will present the newest research findings and strategies in the field of SPD. Presenters from across the country include: Lucy Jane Miller, PhD, OTR/L, Doreit Bialer, OTD, OTR, Elysa Marco, MD, UCSF, Rachel Schneider, MA, MHC, Yvonne Swinth, PhD, OTR/L, Connie Karsari, PhD, Rosemary White, OTR/L, Amy Laurent, EdM, OTR/L, and Sandra Schefkind, MS, OTR/L with a special parent luncheon and presentation by Carol Stock Kranowitz, author of the Out-of-Sync Child series.
Other special activities include exhibitors showcasing the newest and most advanced sensory solutions on both days of the symposium during breaks and lunches. In addition to the general session, STAR Institute will hold two pre-symposium workshops on November 3, 2016, one for professionals only and one for parents only.
The Professional Pre-Symposium Workshop titled "Strategies for Evaluating Sensory Processing Challenges" provides knowledge and tools essential for conducting a thorough occupational therapy evaluation of children with sensory processing challenges, including SPD, ASD, and ADHD. Participants will be introduced to the new Sensory Processing Scale 3 Dimensions as well as use of existing scales to characterize sensory and motor functioning. The focus will be on identifying underlying sensory-motor processing abilities contributing to family- identified problems in daily life. This Pre-Symposium workshop will be led by Dr. Lucy J. Miller, Dr. Sarah A. Schoen, Dr. Shelley Mulligan and Karin Buitendag.
The Parent-Only Pre-Symposium Workshop "Meaningful Conversations" is a unique day for parents in a supportive environment to gain powerful knowledge on SPD, understand new strategies, be empowered to advocate for their child, and begin developing support for themselves and their family. This parent-only Pre-Symposium Workshop is sponsored by CHILD, Children's Institute for Learning Differences, Renton Washington and led by Trina Westerlund, Cathy DeLeon, and Carrie Fannin, all professional experts who are parents of children with SPD.
The symposium is open to occupational therapists, physical therapists, speech language pathologists, educators, medical professionals, mental health care providers, researchers, parents and any others interested in learning more about SPD.
Past attendees find the 3S Symposium to be an inspirational event like no other:
"Worth every penny! Thank you for such and amazing, energizing, and inspirational experience."
"Thank you for putting this wonderfully supportive symposium [together]. This is my first time and I am glad I persuaded my hospital how important this symposium [is]. Additionally, I loved the lunch format. I met some great people."
"This was a wonderful course. The speakers were excellent with good knowledge. Presentations were informative and easy to follow. They all spoke well and provided treatment strategies along with education. Could not have asked for a better conference."
For more details and registration information visit: https://www.regonline.com/spdsymposium-seattle. The early bird registration discount ends August 10, 2016.
About STAR Institute for Sensory Processing Disorder:
The STAR Institute for Sensory Processing Disorder, a Colorado 501(c)(3), is the world leader in treatment, research, and education for Sensory Processing Disorder, a neurological condition that disrupts the daily lives of more than 4 million Americans. The STAR Institute is the premier treatment center for children, adults and families living with Sensory Processing Disorder, feeding disorders, and other sensory conditions associated with ADHD, autism, and other developmental disorders. Dr. Lucy Jane Miller, founder of STAR Institute, is widely recognized as the leader in Sensory Processing Disorder research worldwide. For more information about the Greenwood Village, Colorado clinic, visit http://www.spdSTAR.org or call 303-221-7827.