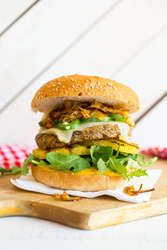 We're encouraging everyone to enjoy their favorite veggie burger on June 5.
Petaluma, California, and Rohnert Park, California (PRWEB) June 01, 2016
Amy's Kitchen and Amy's Drive Thru announced today that they will kick off a newly established food holiday this year on June 5, 2016: National Veggie Burger Day.
"We're encouraging everyone to enjoy their favorite veggie burger on June 5," said Paul Shiefer, Amy's Director of Restaurants.
Amy's supports a nationwide celebration of all kinds of veggie burgers and has invited any and all other veggie-burger making companies--as well as home cooks--to celebrate plant-based burgers and the positive impact they have on our planet. Hilary's Eat Well, Big Mountain Organic, Quorn, Dominex Angel Burgers, Field Roast and GoGo Quinoa will all be joining in the campaign.
Amy's and Amy's Drive Thru, the one year-old organic/vegetarian fast food restaurant, will celebrate this new holiday with their customers and fans by kicking off a host of social media activities and a day-of event at Amy's Drive Thru. Amy's Ultimate Veggie Burger Grilling Packs will be among the prizes, as well as a BOGO veggie burger deal given away via a secret password on @AmysDriveThru social media channels.
From Amy's Social Team: "We invite veggie burger lovers everywhere to join the #veggieburgerday fun on social media. Share in the love, fire up the grill, and post your veggie burger pics. Tag your posts with #veggieburgerday so Amy's can follow along and engage. We hope to make more noise than #nationalburgerday." For companies who wish to get involved, please contact aja.viafora(at)amys(dot)com.
About Amy's
Founded 28 years ago by Andy and Rachel Berliner in Sonoma County, California, Amy's is a pioneer in the organic food movement. Named in honor of Andy and Rachel's then-infant daughter, Amy, the company is family owned, privately held and fiercely independent. It is one of the last remaining U.S. food companies to craft its own recipes, source its own ingredients and make its products in-house. Amy's prides itself on being like a home kitchen, only bigger. The company now makes over 250 different delicious foods, from burritos to pizzas, salsa to soup, beans and biscotti.
About Amy's Drive Thru
Amy's Kitchen, a pioneer in the organic food industry, embarked on a new adventure in 2015 and opened Amy's Drive Thru in Rohnert Park, California. The creation of Amy's Kitchen co-founders Andy and Rachel Berliner, Amy's Drive Thru was two years in the making and brings a fresh vision to fast food. The 4,000-square foot vegetarian fast food stop is planted just off California's iconic Highway 101 and serves fast food created to satisfy new American tastes and values.
# # # #