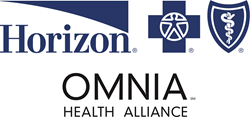 We are pleased to join forces so that AMT can offer OMNIA health plans as an option for their members throughout New Jersey
Newark, NJ (PRWEB) June 01, 2016
Horizon Blue Cross Blue Shield of New Jersey (Horizon BCBSNJ) is teaming up with Association Master Trust (AMT) to offer OMNIA health plans to more employers in the Garden State. AMT is a not-for-profit, multi-association benefits trust that offers self-funded health and dental benefits to 15 independent trade association employers, covering about 18,000 employees and their dependents.
Beginning June 1, 2016, AMT will be offering several different OMNIA plans to all existing and prospective AMT member employers.
"Horizon and AMT share the goal of providing New Jersey workers and their families a high quality plan at an affordable cost," said Joseph Albano, Vice President, Commercial and Major Accounts, Horizon BCBSNJ. "We are pleased to join forces so that AMT can offer OMNIA health plans as an option for their members throughout New Jersey," he said.
"AMT's mission is to offer self-funded health plans that provide comprehensive benefits design and extraordinary service to our members. Adding Horizon's OMNIA plan to our mix makes sense because its' design aligns perfectly with our goals. Participating association employer members will now have more options to enroll into AMT plans. I firmly believe OMNIA will deliver great rates, coverage and service with a health plan run by members for members," said Harvey Mishkin, COO, Association Master Trust.
OMNIA is the health insurance choice for 235,000 New Jerseyans across all market segments, including over 41,000 previously uninsured residents who purchased OMNIA during the 2016 Individual Open Enrollment period. The OMNIA Health Plans offer significantly lower premiums, access to the largest network in New Jersey, and the option to save more money on out-of-pocket costs when seeking care at certain doctors and hospitals.
About Horizon Blue Cross Blue Shield of New Jersey
Horizon Blue Cross Blue Shield of New Jersey, the state's oldest and largest health insurer is a tax-paying, not-for-profit health service corporation, providing a wide array of medical, dental, and prescription insurance products and services. Horizon BCBSNJ is leading the transformation of health care in New Jersey by working with doctors and hospitals to deliver innovative, patient-centered programs that reward the quality, not quantity, of care patients receive. Learn more at http://www.HorizonBlue.com. Horizon BCBSNJ is an independent licensee of the Blue Cross and Blue Shield Association serving more than 3.8 million members.
About Association Master Trust
AMT is a unique not-for-profit multi-association benefits trust formed in 1979 to serve the group benefit needs of participating association employer members. AMT offers self-funded health and dental benefit programs, combining employers from fifteen independent trade associations to maximize claim stability, administrative efficiency, cost savings and a full menu of comprehensive benefits. Through its not-for-profit structure, AMT has returned nearly $10 million in dividend credits to eligible participating members over the past five years. Learn more at http://www.amt-nj.com.
###