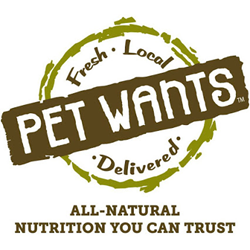 This is a truly special company with a unique product and we are thrilled for the opportunity to invest our career experience into a business that can make such a positive impact on pets and families in our region.
Indianapolis, IN (PRWEB) June 01, 2016
Two local families are excited to announce that they've partnered to open a small business dedicated to improving the lives of pets throughout the Indianapolis region. Elizabeth and Grant Childers and Pat and Beth McIlvenna have just opened Pet Wants Indianapolis – a local company that brings fresh, quality, limited ingredient pet food to doorsteps through mobile delivery.
Pet Wants carefully developed proprietary pet food is slow cooked with fresh, all natural ingredients. The company has their distributor make the dog and cat food in small batches once a month so that every kibble is guaranteed to be the freshest and most nutritional pet food available. Pet Wants Indianapolis – a franchise of the Pet Wants Franchising System – will deliver pet food to the Indianapolis area and all of the surrounding communities including Carmel, Zionsville, Fishers, Greenwood and the Geist area.
"We are excited to share our passion for animal nutrition with you and your family. This is a truly special company with a unique product and we are thrilled for the opportunity to invest our career experience into a business that can make such a positive impact on pets and families in our region," Elizabeth said.
Grant and Elizabeth have been committed to their careers in the corporate industry for more than 15 years. Elizabeth, the Ohio, Kentucky and Indiana Marketing Leader with one of the nation's largest audit and consulting firms, graduated from the Lugar Series for Excellence in Public Service, was named by the Indianapolis Business Journal as one of 2013's Forty under 40 and, in 2010, was named Young Professional of the Year by Young Professionals of Central Indiana (YPCI). She currently serves on the Chaucie's Place Board of Directors and is on the Indiana State Chapter Board for JDRF.
Patrick and Beth McIlvenna met at Indiana University and have been living on the north side of Indianapolis since college. Beth started her career as a teacher, but has devoted her last 12 years to raising their 5 five children. Patrick has been a long-time entrepreneur owning several businesses such as Prime 47 Carmel at Clay Terrace, a real estate investment company, and several companies involved in the development and build out of communication systems for the wireless industry.
From working in the wireless industry together for many years, Grant Childers and Pat McIlvenna led the formation of the Indiana Wireless Association in 2009.
Influencing the passion for animal health and a family business are the Childers & McIlvennas pets & children. The Childers lost their rescue Great Dane/Lab mix Indi Rose to cancer seven years ago and the McIlvennas have two dogs – Molly and Dakota. With three and five children respectively, the Grants and the McIlvennas were looking for a way to get more involved in the community, work with animals and support their families. The answer was Pet Wants.
"When we heard about Pet Wants, we loved the idea that our entire family would be involved in impacting the lives of other families and their pets. In bringing Pet Wants to the Indianapolis area, we can teach the community about pet nutrition and help pets in our region live healthier lives," Pat said.
Adding to the team is Martin McIlvenna, Pat's brother, who is the company's managing partner and Nutritional Leader. Martin has many years of experience running a very successful interior design business in California. Martin moved back to his home town of Indianapolis a year ago to be closer to his family. He brings with him a passion for the study of human and animal nutrition as well as a passion for spiritual healing (he is a licensed Spiritual Practitioner).
Pet Wants originally launched in Cincinnati in 2010. Owned by Michele Hobbs, the business was built to provide proprietary crafted, fresh, slow-cooked, all-natural pet food delivered to customers through a retail store and a convenient, home-delivery service. Hobbs – who now serves as the company's founder – turned the business into a franchise in 2015 with the help of Franchise Funding Group.
To order Pet Wants food for your favorite companion or to learn about the company, call 317-690-2118, email MMcIlvenna(at)petwants.com or visit http://www.petwantsindy.com.
About Pet Wants: Pet Wants was started by Michele Hobbs out of love for her pets and frustration. Veterinarians were unable to help relieve her dog's painful skin allergies. After doing much research, Michele discovered the national dog food brand she trusted was not fresh, not all natural, and lacked sufficient nutrition and, when pet food sits in warehouses and store shelves for months or longer, it loses even more nutritional value. She was committed to developing a better solution for all dogs and cats. Pet Wants food is exclusively crafted – fresh, healthy, slow-cooked and all natural with no added sugar, no fillers and no animal by-products. They source only the best salmon, chicken, lamb, brown rice, and other ingredients. Fresh ingredients make for better food and healthier pets. And since they never use corn, wheat, soy or dyes, the common pet health problems associated with these ingredients are no longer worries. Their fresh food is conveniently delivered to the customer within weeks of production, not months. Roughly half of Pet Wants products are sold through their store and half through their convenient, home-delivery program. You can learn more at http://www.PetWants.com.