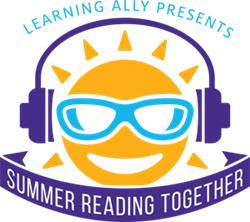 They deserve to be able to read during the summer like every other student; and Learning Ally gives them that opportunity – in a super fun and exciting way
Princeton, NJ (PRWEB) June 02, 2016
Research shows that summer reading helps reduce "summer slide" for all students, and experts indicate that reading at least 20 minutes a day outside of the school year ensures that students continue to grow and develop. Students with learning disabilities face the greatest challenges in access to reading year-round; and because of their disability, they are often left out of traditional reading programs, which can damage self-esteem and cause them to fall behind in school.
That's why Learning Ally, a national not-for-profit organization serving students with learning and visual disabilities has kicked off its "Summer Reading Together" program - a unique initiative designed specifically for students with reading disabilities, such as dyslexia and blindness or visual impairment.
Students enrolled in Learning Ally access the organization's online audiobook library -- 82,000 human-narrated textbooks and literature titles – via personal computers, smartphones, Chromebooks, and Apple or Android tablets. During the 2015-2016 school year, Learning Ally students in more than 10,000 schools across the US, read more than 20 million pages using this audiobook technology.
To celebrate this milestone and to continue to the crucial momentum into the summer, the Summer Reading Together Program features unique and engaging events that create a sense of fun, excitement, competition and support among students, their teachers, families and friends. Program components include:

"Ready, Set, Read!" contest - Students around the country will compete in a sports-themed reading contest to see who can read the most pages, with the top four winning championships and receiving prizes. The contest comes on the heels of the massively successful Learning Ally "Great Reading Games" seven-week competition in which 5,000 students in 300 schools read more than 1.3 million pages, culminating during Read Across America Day. The competition runs until September 1. Members should log in at Learning Ally and click "I'm ready!" to participate.
Support from the Pros – College and professional athletes who recognize these struggles with reading, have teamed up with Learning Ally to provide encouragement, support, hope and inspiration to students. Learning Ally hopes that by these athletes sharing their personal stories and cheering them on, it will give students the extra boost they need to succeed. Stay tuned – new athletes join the team each day – new videos and announcements will be coming regularly.
"Ready, set, read!" Instagram Challenge– Modeled after the US Department of Education's "#ReadWhereYouAre" mainstream reading campaign, this unique Instagram Challenge is for students who read differently, encouraging them to post pictures of how they read and where they read during the month of July. Prizes will be awarded for best posts. Special news and announcements to take place for Summer Learning Day July 14.
Special Sponsorship Opportunities – Now our students participating at home can opt-in to be "endorsed" just like their favorite athletes by creating their own fundraising page, where friends, family, and anyone who has an interest in their reading success can sponsor them. In addition to the reading activity prizes, special fundraising and sponsorship prizes will be awarded.
"We are so excited that Learning Ally has brought a summer reading program to our students who read differently, said Nelda Reyes, Dyslexia Interventionist Teacher in San Marcos TX CISD. "Obviously, the need to keep our kids reading and engaged in the summer is of the utmost importance. However, the traditional programs for summer reading don't take our students into account. They deserve to be able to read during the summer like every other student; and Learning Ally gives them that opportunity – in a super fun and exciting way."
To become a Learning Ally member and to participate, visit http://www.LearningAlly.org. Join the fun and encourage readers on social media using hashtag #SRT16. More fun, more excitement and more news to come regularly - check back often.
About Learning Ally
Founded in 1948, Learning Ally supports K-12, college and graduate students, veterans and lifelong learners – all of whom read and learn differently due to dyslexia, blindness or visual impairment, and other disabilities. Through its extensive community events and support programs, Learning Ally enables parents, teachers and specialists to help students thrive and succeed. The organization hosts live and virtual events for families and teachers; provides instructive webinars led by experts as well as peer-to-peer sessions led by students; personal consultations for parents; and professional development workshops for educators.
Learning Ally's collection of 80,000 human-narrated audio textbooks and literature titles can be downloaded by students using their smartphones and tablets, and is the largest of its kind in the world. As a 501(c)3 nonprofit, Learning Ally is partially funded by grants from state and local education programs, and the generous contributions of individuals, foundations and corporations. For more information, visit http://LearningAlly.org.